Renault Trucks sees off VW and Mercedes at Cliniserve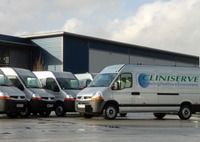 One of the UK's leading clinical waste management companies Cliniserve, has taken delivery of 27 new Renault Master 120.35 vans, through Renault Trucks distributor, MV Trucks. The Renault Masters will join a number of Renault trucks already on the fleet and will replace the company's remaining Iveco vans. This replacement means that, by the end of the year, Cliniserve will have an all Renault fleet of 70 vehicles. The important conquest deal for Renault Trucks and MV Trucks was won against Volkswagen and Mercedes.
The Renault Masters will be used to transport clinical waste from doctors and dentist surgeries, nationwide. All of the company's vehicles are built to exact specification to comply with the Carriage of Dangerous Goods and Health and Safety regulations.
Lee Elliott, Operations Director, Cliniserve, says: "The Renault Masters came out on top for a number of reasons. Firstly, the payload against volume was better than the competitors and secondly, we have been very pleased with the back up and reliability that we already receive from both Renault Trucks and MV Trucks. The fact that we will now have an all Renault fleet is testament to this."
Established in 1991, Cliniserve specialises in the safe collection, transportation and disposal of clinical and hazardous waste for both the public and private sectors. Clients range from hospitals, health authorities and NHS trusts to residential and nursing homes, clinics, GPs, pharmacies, health and beauty clinics, dentists and vets. The company operates from seven locations across the UK with a disposal plant in West Sussex.