Renault Trafic and Master vans with 3 year/100,000 mile warranty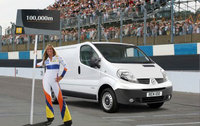 With effect from 1st January 2008, Renault's Trafic and Master ranges will be sold with a 3 year/100,000 mile warranty. The new terms reflect the company's commitment to quality after ten consecutive years of European LCV market leadership, as well as bringing both vehicles in line with New Laguna, which was the company's first product to benefit from the extended warranty terms in October last year.
Applicable to every Trafic and Master van, base vehicle and Commercial Passenger Vehicle registered in the UK from 1st January 2008, the improved warranty now offers 3 years/100,000 mile protection in place of the previous 60,000 miles. The first two years mileage is unlimited, unlike one of its major rivals, Vauxhall, which offers just one, while the third is valid up until the end of that year or 100,000 miles, whichever arrives sooner.
Also making ownership ever easier, Renault offers three years free AA cover, as opposed to just 12 months Vauxhall Assistance.
New 2.5 dCi 150 engine for Trafic
In addition to the enhanced warranty terms for Trafic and Master, a new engine also debuts on the former, in the shape of the 2.5 dCi 150. Replacing the previous dCi 140, this new flagship diesel engine, which has previously only been available on its larger Master sibling, offers significant performance gains and will no doubt appeal particularly to customers who need to tow or those who require additional power for other purposes from time to time.
Priced £1,350 more than their dCi 115 equivalents, the new versions benefit from peak torque of 320Nm at 1,500 rpm and optimum power of 150hp at 3,500 rpm. Its fuel economy is as impressive as its performance, with 32.5 mpg achievable on a combined cycle (9 Seat models).
Quickshift6 gearbox available with dCi 150 engine
Like the dCi 115, Renault's innovative and fuel-saving Quickshift6 gearbox is available with the dCi 150 engine for an additional £800. The multi-award winning Trafic van has always been an easy vehicle to live and work with, so the launch of the innovative automated manual transmission, Quickshift6, on a second engine derivative, will only serve to improve things, especially from an ownership, running cost and environmental perspective.
Combining the performance and operating economy of a manual gearbox with the ease-of-use of an automatic transmission, the two-pedal, six-speed transmission confers numerous benefits of a standard automatic, without many of the drawbacks.
As well as being a boon for drivers travelling long distances on dual carriageways and motorways, Quickshift6 will also help when it comes to keeping driver's cool, calm and collected on urban stop-start delivery runs.
Unlike standard automatics, the clutchless transmission is good news for the wallet and emission levels, both of particular concern to fleet operators at the present time. Stress- as well as fuel-saving, the new transmission option can improve fuel consumption by as much as 5% on standard panel vans (depending on model and version). For the best-selling SL27 dCi 115, for example, the fitment of Quickshift6 increases fuel economy from 33.6 to 35.3mpg on a combined cycle.
In terms of daily operation, the Quickshift6 system consists of a manual gearbox combined with a module (computer and transducers) which automates the clutching, declutching and gearchanging operations. A second computer simultaneously controls engine torque output and speed to ensure smooth gearchanges. Operated by way of a joystick-style lever on the dashboard, to take control of their up and downchanges, the driver simply needs to put the lever into manual 'M' mode.
In addition to the cost and environmental benefits of the automated manual, it also makes life easier for the driver on several fronts. The first is the inclusion of two starting aids: "load" mode, for use when the vehicle is heavily laden, and "snow" mode, which automatically activates the automatic mode and limits wheel spin when starting from rest.
Also benefiting smoother and simpler driving, Quickshift6 features:
Automatic downshift takes place if the engine is in the incorrect gear
Automatic downshift occurs if the brakes are operated
First gear is automatically selected if the speed falls below 5mph
Vehicles fitted with Quickshift6 are also impossible to stall and feature a "creep" function in first and reverse gears for easier parking. Prices for Trafic Quickshift6 models (excluding VAT and OTR charges) start from £15,250 for the SL27 dCi 115 Quickshift6, rising to £20,100 for Crew Van+ LL29dCi 150 Quickshift6.
New Trafic Refrigerated Van
Following a positive reception for the Trafic refrigerated van concept at last year's CV Show, where it was shown to gauge customer reaction ahead of a potential UK commercial launch, Renault is now introducing the Trafic Refrigerated Van range.
Designed in partnership with Lamberet, Europe's leading constructor of insulated and refrigerated vehicles, the latest addition to the Trafic stable is available with either the 2.0 dCi 90 or dCi 115 engine in SL27 and SL29 guise. Model payload ranges from 710kg (SL27) to 973kg (SL29), while load volume is 3.4m³ for all.
Designated Class A (0° to 12°C) for the transport of perishable goods, the temperature controlled Trafic features insulated material in the doors, floor and ceiling, so that it can maintain a load area temperature between 0° and 12°C, even if the outside temperature exceeds 30°C. The insulation material used is polyurethane and is therefore completely recyclable. The flooring is made from aluminium and covers the load area floor and wheelarches. It is impermeable and built to withstand significant wear and tear. The conversion also includes independent wiring, full steel bulkhead, 180° solid rear doors and an unglazed sliding left side door. It also features an emergency exit in case of accidental closure, plus two ceiling lights are fitted in the roof for the movement of goods in weak light conditions.
The 870W refrigeration unit itself is independently powered and can be charged both on the road (via the alternator so no 'power take off' is required) and while stationary, from the mains. In terms of its design, the slimline refrigeration unit sits just 11cm in height above the Trafic's roofline.
The control panel for the refrigeration unit itself is fitted in the cab area, at the top of the centre part of the windscreen, allowing both driver and passengers to easily monitor the temperature of goods in the load area while on the move.
Among the other benefits of the system are that the unit can have air conditioning specified as an option, while for easier ownership, the unit has a 'Quick Release System' enabling it to fully removed for low repair and maintenance time as well as making it easier at time of resale. The evaporation and condenser unit has a life span of 30,000 hours, making it one of the most hardwearing units available.
Standard equipment on the new Refrigerated range includes 30W single CD-RDS radio with fingertip remote control, driver armrest, electric windows (One Touch driver's side) and electric heated door mirrors, plus a three-button key which negates the need to unlock all of the vehicle's doors unnecessarily when loading or unloading.
As a factory conversion, the Trafic Refrigerated Van naturally benefits from the new manufacturer warranty terms of 3 years/100,000 miles, whichever arrives first. Servicing is carried out via the Renault dealer network, with Lamberet specialist advice available if required.