The AA continues to choose Renault Trafic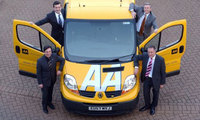 Renault UK will continue to supply the UK's largest breakdown service provider, the AA, with a fleet of Renault Trafic vans, which will be used as roadside assistance vehicles. The AA has taken delivery of a further 150 Renault vans, in addition to the 400 supplied in 2006.
The AA is so impressed with the Renault Trafic, a further order for 200 vehicles has also been placed for early 2008, bringing the AA's Renault fleet to 750 strong.
With 15 million members relying on the AA to assist them should their vehicle breakdown, the AA also needs vehicles it can depend on and the Renault Trafic has been selected for its reliability, quality, interior space, driver comfort and practicality.
Sarah Dopson, Vehicle Supply Manager, the AA, said; "The Renault Trafic not only meets our business needs but is also extremely popular with our patrol force. It has excellent load space and our vehicle recovery system fits perfectly into the rear section of the van. The excellent whole life costs were also a key factor in our decision to choose Renault and its Trafic vans for our busy fleet".
Renault UK Managing Director, Roland Bouchara, was on hand to personally deliver the first of the 150 Trafic vans.
Rémi Le Fevre, Director, Services & Quality, Renault UK, joined Roland Bouchara on the handover of the first Trafic van to David Wallace, Road, B2B Director, the AA and John Potter, Commercial Director, SAGA Group Ltd.
Commenting on the deal, Roland Bouchara said; "Renault offers a wide range of vans which are of the highest quality and are perfectly adaptable to any business requirements. I am delighted that The AA is so impressed with the Renault Trafic that it has chosen to continue choosing Renault to supply its fleet of roadside assistance vehicles where reliability, comfort, space and low whole life costs are vital."