Renault Kangoo van scoops Best Light Van award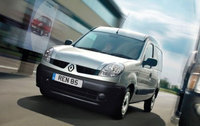 Even in its final year of production, Renault's Kangoo Van continues to attract admirers, none more so than Professional Van & Light Truck magazine, which has recently named it Best Light Van at its 2008 Awards.
Picking up from where its big brother, Trafic, left off last year where it walked away with the Standard Panel Van gong, Kangoo's win is even more remarkable given that its successor has only just taken its first UK bow at the CV Show at the NEC, Birmingham.
Commenting on Kangoo's win, Professional Van & Light Truck's Publisher, Tim Campbell, said: "The Kangoo performed very well in this closely fought category and I'm sure Renault are hoping the new Kangoo will follow in the same footsteps to success."
After receiving the latest industry acknowledgement for its high-selling range, Renault UK's LCV Brand Manager, Louise O'Sullivan, said, "Since its launch we've sold more than 1.4 million Kangoos and it continues to lead the European compact van sector, so we're delighted that even in its twilight period, the judges have recognised its abilities. Throughout this year's CV Show, New Kangoo Van attracted a lot of interest and favourable comments from prospective UK buyers, so we're looking forward to seeing it emulate the same levels of success when it goes on sale later this year. With the new version's unprecedented levels of comfort, practicality and quality, we'll be keen to see it not just hold onto the same title at next year's awards, but go one better by winning the Van of the Year award too."