Renault scoops environment award in 2008 Fleet World Honours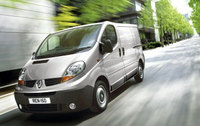 Renault is celebrating after scooping the highly-coveted Environment Award in the 2008 Fleet World Honours, thanks to its impressive range of low emission vehicles. Renault's Trafic van remains the LCV to beat after winning 'Best Medium Van' for an outstanding sixth consecutive year.
The prestigious annual awards were presented at a VIP ceremony in London, to manufacturers, service companies and individuals who have achieved the highest possible level of excellence in their sector. The judging panel is made up of leading industry experts including Fleet World's editorial team, members of the leasing industry, fleet managers and representatives from residual values guides.
Keith Hawes, Director, Fleet & Commercial Vehicle Sales, Renault UK, commented; "The environment is becoming an increasingly important factor for Fleets when selecting vehicles, and Renault has consistently demonstrated its commitment by offering a wide range of low emission models. This includes 37 Renault cars which fall into the 120 g/km CO2 emissions or under category.
"Renault has one of the most economical vehicle ranges on the market today and the launch of our eco² symbol last year demonstrates our commitment to the environment during the whole-life cycle of the vehicle, from design to end-of-life. I am delighted that Renault has been recognised for our extensive environmental credentials and we have won such a highly-coveted award."
Keith added; "It is also testament to the enduring appeal of the Renault Trafic van that it has won this prestigious award for the sixth year in a row and is clearly still the van of choice for fleets."
Environment Award – Renault
Renault's 'eco² range offers customers a wide range of vehicles at an affordable purchase price – this includes cars which offer fuel consumption levels close to those of a hybrid such as its1.5 dCi engines.
Renault is also about to launch its first-ever E85 vehicle in the UK, with the Mégane. Renault will be the first manufacturer to apply an eco² symbol to a commercial vehicle with the launch of its New Kangoo van and New Kangoo Compact in October 2008. The 1.5 dCi 86 and 68 engine will meet Renault's eco² criteria.
Commenting on the award, Chairman of Judges George Emmerson said: 'This was the most hotly contested category in the history of the Fleet World Honours, such is the clamour for organisations' green credentials to be recognised. There were some very impressive entries, but the panel felt that Renault's impressive range of low-emission vehicles was the most tangible, and the most quantifiable of them all.'
Fleet World editor Ken Rogers commented: 'The judges considered Renault's ECO 2 approach to the environmental challenge as the most rounded of all the volume manufacturers. ECO 2 vehicles must emit less than 140g/km of CO2, operate on E85 ethanol or on B30 biodiesel, be manufactured in a plant that has been certified ISO 14001, is 95% recoverable at the end of its lifecycle - and includes at least 5% recycled plastics.'
Best Medium Van – Renault Trafic
Renault's Trafic van has been recently revised combining a bold, modern and dynamic design with a high quality interior. The ever-popular Trafic is bold and modern with a dynamic design and high quality interior. It is also flexible enough to suit most fleet requirements and its reliability, durability and competitive pricing ensures it stands out from the crowd. A comprehensive range of engines that are both frugal and powerful also keep Trafic at the top of Fleet Managers' lists.
Commenting on the award, Van Fleet World editor John Kendall said: "The design may be almost seven years old, but the Renault Trafic still looks fresh and modern.
"All models offer a broad range of body styles, including short and long wheelbase with standard and high roof options. Body volumes span 5.0 to 7.1 cubic metres, while there are combi, chassis-cab and double-cab models. Van payloads of 1,000kg and 1,200kg help to give a wide variety of choice for fleet users.
"Inside, drivers are well catered for. Storage space is plentiful, the driving position is still one of the best and the subtle changes from the 2006 facelift have left the stylish dashboard largely unchanged. It is also a good van to drive with quiet engines and a fine balance of ride and handling either empty, or loaded to full gross weight.
"Under the bonnet, the Euro-IV engine range is sourced from Renault/Nissan with a 2.0-litre common-rail diesel providing a useful power increase over its 1.9-litre predecessor with 90PS and 115PS. The 2.5-litre common-rail diesel produces 150PS, giving effortless performance for maximum payload work. There's also a 120PS two-litre petrol engine, while both diesels are available with an automated six-speed gearbox to make light of stop/start operations."