Renault previews new concepts at Private Hire and Taxi Exhibition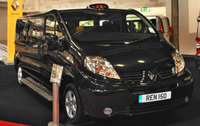 As part of its ever-expanding Commercial Passenger Vehicle range, Renault recently showcased three new concepts at the Private Hire and Taxi Exhibition 2008: Trafic Taxi Bus, Shuttle-Master and Trafic Atlas Concept.
Held at the Ricoh Arena in Coventry, this year's two-day event attracted more than 2,800 visitors, with Renault as the largest vehicle manufacturer on display. As part of a comprehensive range line-up, in addition to the three concept vehicles making their UK debuts, Renault's 400m² stand featured Mégane Sport Tourer, Grand Scénic, New Laguna Hatch and Sport Tourer, Grand Espace and Master 16 Seat.
Representing Renault's first foray into the licensed taxi market, the first of the three concept vehicles on show, the Trafic Taxi Bus, is a modified Trafic 9 Seat minibus, boasting several key features designed specifically for this highly competitive sector. Among the alterations is a significant focus on driver safety with a full-width security screen to protect drivers and their vehicles against theft and violent attack. It also benefits from an easy to clean interior which will ensure maintenance costs are kept in check.
The full specification of the Trafic Taxi Bus includes:
3x rear facing tip seats in vinyl with quick fold mechanism, 3x forward facing seats on quick release fittings
Intercom
LED magnetic top sign and LED lighting above pay hole
Cygnus MR400 meter
Anti-slip coated ply floor
Twin side loading doors with opening windows
Wipe down rear quarter panels
M1-tested seats
7-foot telescopic wheelchair ramps and wheelchair securing system
The second concept, Shuttle-Master, is a standard Master 9 Seat, but in keeping with its likely take-up from the Private Hire sector, has the added advantage of a mesh bulkhead and dedicated storage area. An ingenious reversing camera is also fitted that displays onto the rear view mirror, but which can double as a VDU screen for portable DVD players. Handy for when a driver wants to catch up on the latest Hollywood blockbuster while waiting to pick-up passengers.
The final concept, Trafic Atlas Concept, is based on a Trafic 9 Seat, but with conference seating for six and rear access wheelchair capacity.
The three concepts were built by Voyager MPV, VFS (Southampton) and Atlas Vehicle Conversions and prior to commercial launch will undergo stringent testing to comply with Renault's 'Accord Produit' programme for authorised conversions.
Richard Turk, Corporate Account Manager, Renault UK, who was responsible for the company's attendance at this year's show, was delighted with the response to the various Renault products on show, "The whole Renault range was extremely well received, with operators and licensing officers alike showing considerable interest in the Trafic Taxi Bus in particular. We're delighted by the number of leads our presence generated for the Renault Corporate Centre and we look forward to an even more successful event in 2009."