Why your company should prepare for 5G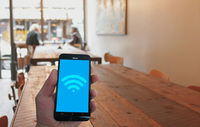 5G is one of the most exciting advancements of recent technological history, but it remains to be seen when it will become widespread. Currently the first 5G phones are just about to hit the market but it will take a while for the fifth generation mobile network to make it to the average person. 5G will lead to advancements like remotely controlled machinery that may completely revolutionize the construction and medical industries among others. Every company that is looking towards the future should prepare for this transition, which will grand in size and slow in its roll out. Since 5G phones are already in production, there is no time like the present.
Impact of 5G
Qualcomm is estimating the about 22 million jobs will be created due to 5G technology, adding an astounding $12.3 trillion to the global economy as early as 2035. Experts at the site MoneyPug, which is used to compare mobile phones, say that the fifth generation mobile network will be no small advance. Internet speed and latency is set to greatly improve. This will lead to not only remote machinery but improvements in AI, virtual reality, 4K video streaming, and much more.
Amazingly, the first 5G phones are being rolled out as we speak. Although it will take a long time for the network to become widespread, we are already moving towards the technology. Business owners and managers should begin planning for the future by preparing for 5G. It will not only improve your productivity, it could make your company an innovator in your field.
Business Benefits
Improved business communications are a major advancement that will result from 5G tech. At the moment, people are working remotely at higher rates than ever before. While their personal productivity is usually increased by this, communication with bosses and colleagues is negatively affected.
5G will enable remote workers to download larger files from the Cloud, stream high-quality video, and take part in conferences in new ways. 4K video streaming will make it so a person that is traveling or working from home may as well be in the room. Your customers will have access to better customer service with shorter wait times and less technological boundaries.
Beyond just communication, productivity will increase overall. If employees are better equipped to take advantage of higher connectivity speeds, they will be able to work faster and more efficiently. Slow internet just may be gone forever. Communication leads to productivity and productivity leads to more communication.
You will also be able to recruit more successfully, with skill gaps bridged and talent scouted more quickly. Lowering your employee turnover is possible by offering more options on where people can work and when. Overall your company's agility will be greatly improved, scheduling will be easier, and the possibilities for innovation nearly endless.
How to Prepare
Those who first prepare for 5G will see the greater benefits. It's important to first lay out your key investment opportunities in order to see how your business will benefit the most from technological advancements. Are you dealing with machinery? Would you benefit from remote control of these machines? Do you need to send larger files back and forth but aren't able to? Do you need better communication with remote employees? Doing in-depth research and thinking deeply about how your business will benefit from advancements of 5G is imperative to staying up-to-date.
You should also think about appointing people to spearhead the transition process. Planning for how your company could benefit from increased technological capabilities may be the difference between becoming innovators and being forgotten.
It is also key to protect against cyber-threats that will evolve with the technology. While there are many positive developments, hackers will be able to do more with increased speed and latency. Protecting your business from threats is synonymous with enhancing your productivity.
Whatever field you are in, it is important to consider 5G. It will likely change our whole world and you can either benefit from its changes or be left in the dust. With the amount of jobs and money put into the economy, the time is ripe for innovators and fearless entrepreneurs. Get started now to make sure that your future is bright. Utilizing technology will improve not just your businesses productivity but the products and services themselves.
Ryan Beitler is a journalist and writer. He has been published in Paste Magazine, The Slovenia Times, New Noise Magazine, OC Weekly, Deadline News, and many more. Reach him at ryanrbeitler@gmail.com