Is vaping more appealing to kids than smoking?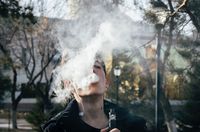 There's something about electric contraptions that really capture the imaginations of children. Invent a device that makes a nice little bubbling sound and blows out flumes of flavoured smoke and you're bound to garner the attention of today's youth. The vaping industry has been called into question recently after research was released suggesting that more and more children are taking up vaping, faster than they would standard tobacco cigarettes. But is vaping more appealing to kids than smoking? Let's find out.
The rise of vaping
The vaping trend has significantly increased over the past couple of years with more and more shops popping up across our highstreets. Vape flumes can be seen everywhere, and it's not just the youngsters who are adopting this new, healthier method of smoking. E-cigarettes are normally taken up as a means of curbing a nicotine addiction or saving a little bit of money, but now children are increasingly likely to vape even if they haven't tried standard cigarettes. As the vaping industry surpasses a value of £17 billion there doesn't seem to be much stopping the rise of the technology as a healthier option to smoking. But what's next for the industry?
Does vaping appeal to kids
Kids are impressionable, and anything they see adults doing they're going to want to try it out themselves. It doesn't matter whether it's standard tobacco cigarettes or VSAVI vapes, kids are always going to strive to act older than they are. However, the popularity of vapes within celebrity culture is one that will naturally motivate kids to try them out.
While research into the vaping industry and the medical effects of vaping are still in the speculative stages, the rise of vaping among children suggests a growing normalisation of smoking culture in youths. In the past we've heard adults talking about how cannabis is a gateway drug to harder lifestyles but could vaping be the same?
How do we tackle the trend surrounding vaping?
Campaigners have been trying for decades to curtail youths from smoking by outlining the dangers of tobacco and the links to lung cancer. Despite all the research and information surrounding tobacco products, young people still begin to smoke. Whether they are leading by the example of parents, falling victim to peer pressure, or simply curious about trying cigarettes there isn't much that can be done about tobacco smoking other than education. However, it is likely that vaping is much healthier than cigarettes, so we should maybe thankful and await the craze to die out before the kids move onto the next craze. CBD oil.
The vaping industry continues to grow well into 2019 and with it comes a whole range of new regulations and research into the medical affects of the devices. As attitudes to smoking tobacco changes and the representation of cigarettes diverges in the media it's clear that vaping has generated more of an appeal than cigarettes. All this talk of generation X being less naïve, and more self-aware than the generations that came before may be true, and the vaping revolution could be well underway.