Home automation that is affordable, effective, and appealing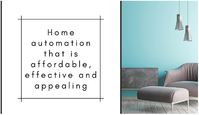 A lot of people wish to make their houses comfortable, safe, and secure. At the same time, most of them are afraid that upgrading their homes into "a smart house" will cost them a fortune. Nevertheless, the process of home automation might be simpler and cheaper than it seemed at first.
Investment in home automation does make sense. It saves time and money. Moreover, it draws potential errors to a minimum, enabling better focus on high-priority tasks.
How much do you know about home automation?
What Can Home Automation Control?
Home automation maintains:
- Security (doors, windows, security cameras);
- Heating and cooling;
- Air;
- Lighting and blinds;
- Entertainment and other home devices.
Perhaps, you will be surprised to learn that even your workplace equipment can undergo automation. Your adjustable desk or chair can be also maintained via just one lick. To understand how to do that, you should first study a standing desk frame guide.
What Advantages Does Home Automation offer?
The application of technologies significantly improves daily life and ensures better comfort to its owner.
Home automation has plenty of advantages:
- Easy to install and use;
- Helps to make better decisions, based on the data of the control system, showing which processes or equipment need optimization;
- Offers you a higher grade of security;
- Provides peace of mind as you can maintain the state and processes throughout your smart house via remote monitoring or real-time video;
- Requires spending less money on people, servicing the house/apartment;
- Saves electricity and water thereby preventing exorbitant bills.
Who Can Install My Home Automation System?
Automation of houses belongs to the area of responsibility of electricians. You must choose only a qualified specialist with a valid license or a reputable home automation installer with the corresponding accreditation.
How Much Does It Cost to Automate Your Home?
The cost of home automation varied depending on the features of your house:
- The number of rooms you would like to maintain via technologies;
- The size of your house (m2);
- The range of items in your home you would like to be automated (appliances, garage doors, lighting, security system, etc.);
- The level of sophistication for each of the selected items.
The Best Cheap Smart Home Devices You Can Get Today
Choosing effective cheap smart home devices is individual to each person, his budget, and preference of a smart home platform (Alexa, Google Assistant, Siri).
Here are 10 best solutions you can buy today:
- Amazon Echo Dot with Clock;
- Blink XT2 (Wireless outdoor camera);
- GE C-Start Switch Motion Sensing Dimmer;
- Google Nest Mini;
- Honeywell RTH8580WF Wi-Fi Thermostat;
- Lifx Mini (budget smart light bulb);
- Wemo WiFi Smart Plug;
- Wyze Cam 1080p (indoor camera);
- Wyze Bulb (smart light bulb);
- Wyze Smart Lock.
As you can see, home automation technologies are accessible today. A thorough analysis of your needs and capabilities of your home can turn it into a safe and comfortable fortress for your family.
Hayley Mann is a technology enthusiast specializing in automation methods of ergonomics devices. Her engineering background helps her to create interesting articles on technical topics, making them understandable for all readers.