Why it's worth switching to premium e-liquid for your vape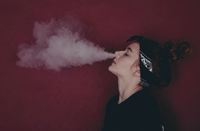 Over the past decade, vaping has become a popular alternative to smoking for a variety of reasons. Vaping gives consumers more control over how much nicotine they take in, and has been scientifically proven to be less harmful than cigarettes.
Furthermore, though there are limitations on public vaping in some places, unlike tobacco smoke, e-cigarettes produce a vapor that doesn't linger or cause unpleasant odors — which makes it a lot easier to vape indoors.
But if you ask a vaper why they took up vaping in the first place, they'll probably mention that vaping simply offers superior taste and a greater range of choice. When you buy a vape, you can select between hundreds of different e-liquid flavors, and you can switch between flavors easily.
Not all e-liquids are created equal, though, and as vaping has taken off in popularity, the difference between standard and premium e-liquid producers has become significant.
If you enjoy vaping and want to get the most out of the experience, here are just three reasons you might want to make the switch to premium e-liquids.
1. Higher Production Quality
One major concern that first-time vapers have is about what is actually in their e-liquid. While e-liquids are manufactured in a variety of ways using different flavor agents, the easiest way to tell whether you're buying premium vape juice is simply by looking at the box it came in — high-end manufacturers like Glas Vapor provide full transparency about the regulatory standards their product meets.
Specifically, you should check to see if it was manufactured in an ISO and GMP certified facility, and is compliant with the regulations of international standards bodies like REACH.
2. More Accurate Flavor Reconstructions
If you've been vaping for a while, you're probably familiar with the disappointment that comes when you try an exciting new flavor that markets itself as a complex blend of fruits, or a delicious dessert, only to be hit with a bland and undifferentiated sensation of sweetness and vanilla.
E-liquid brands have always tried to create excitement for their product by referencing exotic flavor profiles and specific tastes, but only the best companies are able to produce a sugar cookie vape juice that actually re-creates all of that buttery, caramel and nutmeg goodness.
3. Greater Flavor Complexity
One thing that fans of premium e-liquid often talk about is how the best brands deliver a more complex taste. Much like a fine wine, a great e-liquid doesn't offer a single note: instead, the flavor blossoms as you inhale and exhale the cloud.
This deepens the vaping experience. Not only do you get that first initial hit of the main profile, you also get to enjoy distinct tastes of individual flavors like blueberry, butter, or chocolate as the vapor leaves your mouth.
Vaping is a deeply sensual experience, so if you're going to treat yourself, you might as well do so in style. And with better quality product that offers more accurate and more complex flavors, premium e-liquids are like the champagne of the vape world.