Every nonprofit needs these valuable tools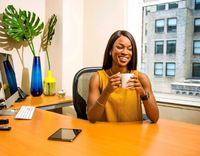 It's an understatement to say that running a nonprofit is challenging. The tasks are endless, from managing the entire organization to handling staff, volunteers, and donors, to raising funds and running events. Add cybersecurity concerns to this, and you have your work cut out for you.
Fortunately, the right tools can help ease the burden. Let's look at some essential tools that can help your nonprofit take its operations to the next level:
#1 Nonprofit CRM Software
If you are looking to manage your entire nonprofit with a single CRM that's well-reviewed and secure, then you should try Sumac. This powerful nonprofit CRM has essential tools for basic operations, pledges, auditions, submissions, course registration.
The CRM is also highly customizable and can be tailor-made to suit your nonprofit's needs. Here are some modules you can use to customize the CRM:
- Case Management
- Memberships
- Volunteers
- Ticketing
- Tour Booking
- Course Registration
- Volunteers
- Grant Management
- Forms
- Proposals
- Prospecting
You can simply start with the basic CRM, explore and select your add-on-options, and let Sumac configure the system.
Perhaps the most attractive part of the CRM, especially for nonprofits struggling to raise funds, is that the software's basic version is completely free for organizations that qualify. What's more, it's easy to use thanks to its user-friendly interface. The CRM also offers excellent support to companies.
#2 Online Community Tools
Nonprofits need an online community platform in the digital age where members can socialize, interact, learn, and collaborate. You can set up a community platform with forum moderators that keep the interactions healthy and enhance your nonprofit's value.
If you're looking for a free mobile-run option, consider using Tapatalk. This hosting platform offers sufficient storage, customization, widgets, media support, and spam detection. Alternatively, you can use ProBoards to quickly set up a remotely hosted online forum that's simple and easy to use.
#3 Virtual Meeting Tools
Virtual meeting tools are proving to be essential for nonprofits at a time when physical distancing protocols must be followed. Of course, the most popular videoconferencing tool today for all types of organizations is Zoom.
However, there have been some security concerns around the software. In addition, Zoom isn't particularly robust. Many agencies are turning to Google Meet. Others are trying PickTime and BoardEffect, as they carry features that make meetings more productive.
#4 Web Analytics Tools
If you have a website, you can use Google Analytics to track your marketing campaigns and check their usefulness. Google Analytics also allows you to analyze your web traffic with detailed reports.
#5 WordPress
If your nonprofit doesn't have a website, you can easily build one using the user-friendly tools on WordPress. The platform also offers countless themes and plug-ins to enhance your website and impress all types of visitors, including donors, volunteers, and members.
Your word-press powered website is also easy to manage and can host your blog. With the power of your blog and free social media marketing tools, you can boost your nonprofit's market reach.
Although it's not easy to manage a nonprofit, modern technology can help streamline many tasks and increase productivity.