Popular webinar platforms that might interest you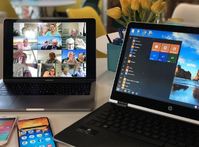 Webinars are the new way of hosting meetings and getting your message across to thousands of people in different parts of the world. Due to the current situation, where the COVID-19 pandemic has confined a lot of people to their homes, webinars have become the perfect tools to drive any workforce. Modern webinar platforms have made holding these meetings easier than ever. The highly interactive features offered by these platforms have given a new meaning to webinars. Furthermore, these online software programs are not limited to businesses. Any individual or organization can get their messages across and ensure effective communication through these platforms.
In this article, we will highlight some of the most trending webinar platforms currently on the market.
WebinarJam
WebinarJam is built to provide optimal convenience. Unlike many other webinar platforms out there, it features powerful tools that you can access through a simplified user interface. One of the most unique features of WebinarJam is that it allows streaming to YouTube and gives you a highly secure environment to interact with your audience. For businesses using WebinarJam as a platform, the developers have integrated a pop-up feature that allows them to directly showcase their products or link to their sites. You will also not miss out on the basic features such as live chat, multiple hosts, HD video quality, and more.
Demio
Demio is a powerful and up-to-date webinar platform designed with modern users in mind. It offers full flexibility for the type of webinar you prefer to hold, including live, pre-recorded, hybrid modes. The platform has an easy-to-navigate interface with all the latest features to ensure an interactive webinar. These features include private chat windows, on-the-go screen sharing, polls and questions, and more. Demio also provides deep analytics for your webinars to help you improve their quality and see what works best for your audience.
Livestorm
Livestorm is one of the most adaptable platforms out there. It provides full support for mobile phones, laptops, and other electronic devices, and your audience won't have to sign up to join a meeting. Livestorm is one of the few platforms on the market that offer live, pre-recorded, and on-demand webinar modes for more flexibility. The webinar interface is also quite interactive with features like polls, questions, up-votes, and private analytics. The sessions can also be recorded, allowing companies to save their webinars for anyone who is not present. Users can also send customized email invites and automatic reminders to other attendees.
GoToWebinar
GoToWebinar is another effective platform that is optimized for people who want to host quick webinars without concerning themselves with the technicalities. It features a simple and clean interface with features like polls and surveys and more. With over 50k users, the platform is one of the most trustworthy options out there. One thing that separates GoToWebinar from its competitors is that it gives users the ability to create customized landing page forms to attract customers. Other interesting features include automated email reminders, session-recording, and webinar templates.
WebinarNinja
If you are a business owner looking for a tool to help you convert leads into customers, then WebinarNinja is one of your best options. The developers have provided integration solutions with every major CRM system out there for convenient accessibility. Although the system offers a replay option, there is no feature that allows you to download the sessions. Unlike many other webinar platforms, WebinarNinja allows you to choose from a selection of numerous landing pages to attract your prospective customers. Users can also host paid webinars through a secure and efficient system. The software is optimal for large businesses looking for a versatile platform for all their webinar hosting needs.
ClickMeeting
ClickMeeting is another well-designed software offering all the features you could ever want in a webinar platform. It gives users access to all the recordings, which they can easily download at any time. You can also create more personalized webinars through multiple hosts and a whiteboard interface. Apart from the regular webinar-related features, you can also video call or chat with other users, allowing for even greater engagement. These features can help educational institutes and businesses establish better connections with their respective audience. To top it off, you also get access to thorough analytics that can help you improve user experience and address your target audience in the most effective manner.
With so many webinar platforms out there, making the right choice can be tough. In the end, it all boils down to what you require out of your tool and how much you are willing to pay. All these platforms can, at the very least, provide the basic features you'll need to host a webinar, so you can't really go wrong with any of these options. We hope this article can help you choose the perfect platform for your needs.