Free up money by selling unwanted gold and silver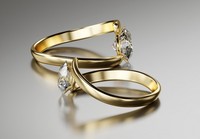 When you own old or unwanted jewellery, silver coin collections, silver heirlooms like tea sets or cutlery, gold coins and bars, and other precious metals, you're letting a valuable asset sit and collect dust. You could be sitting on hundreds or thousands of dollars that could be better put to use in any number of ways.
Whether your budget is in a pinch or you just want to clear out some unwanted belongings, there's a lot you can do with the cash raised from selling gold and silver.
How to Sell Gold and Silver Coins and Jewellery
First, you have to be confident that you're getting a fair price for your belongings. That starts with learning what you have. Often people come by gold and silver through inheritance or as a gift, so they don't necessarily know what they really have. There are several factors that will impact the price of old jewellery or coins:
- The purity of the precious metal contents
- Weight of precious metals
- Brand name, design, and whether the piece could be collectible
Next, you will want to make sure you sell to a trusted source that will offer you a great price. Don't hesitate to look up reviews. Find a gold and jewellery buyer with a well-established presence.
It also helps to find a buyer connected to collectors of coins and jewellery. Not every piece will have collectible value, but if yours does, you can usually get a better price for it than if you sold it for the precious metal content alone.
What Is Your Gold and Silver Worth?
Just because a loved one insisted that an heirloom is valuable doesn't mean that it really is. Jewellery and other heirlooms are often inherited or given as a gift, and owners may not be familiar with their true value.
You'll want to have jewellery or bullion appraised and authenticated before you sell it. A professional will look for a hallmark to determine the purity of the item and the weight of precious metals contained in it.
The price of gold fluctuates daily on commodity markets, as does silver, and reputable buyers will adjust their prices to reflect going rates.
Is Your Item a Collectible?
The collectible market is a difficult one. What makes an item collectible is someone else's desire to own it. The market for antiques is subject to trends and fashions that change. There is no hard and fast definition of "collectible" beyond what the market is willing to buy.
That said, taking your items to a buyer connected with collectors around the world is the fastest way to find out if there's a market for your belongings. They stay familiar with what collectors are looking for at the moment and can offer a superior price if your item has collectible appeal.
If it's not a collectible, there's always value in gold and silver. The bullion market is robust, and you might be surprised how much value you can unlock by selling unwanted jewellery.