3 ways to successfully manage large-scale events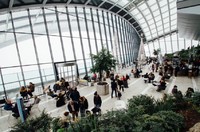 Successfully managing an event can be complicated and take up a lot of time. It is even more challenging with larger events. Larger events can be expensive and difficult to manage.
The best event managers require years of training and experience to become highly efficient. However, even the best managers cannot work alone and may require staff, increasing the costs.
It is essential to utilize the best event management practices to ensure the success of your event. Here are some of the best management practices to use when it comes to significant scale events:
Create Event Goals and Budgets
It is essential to create event goals for the success of any event. Goals should be based on your business objectives and planning steps. The event goals will help in measuring the performance of the event. When it comes to defining the goals of any event, you can follow these steps:
Identify your audience – It is vital to identify your target audience. Is the event aimed at engaging new customers or current ones?
What is the aim of the event? – You need to identify the short and long-term goals of the event. Is the event aiming to generate publicity or establish credibility? It is essential to define the purpose of the event from the beginning.
What is the events' content? – What is the intended takeaway from the event? Do you need to drive more people to sign up for something? Is the event meant to educate employees and staff on new services and products?
The event goals should be centered around attendee and sponsor satisfaction, meeting the even objectives, and aligning with your business goals and vision.
After the event goals are set, you should create an event budget. A detailed, well-thought-out budget ensures accountability with finances and prevents overspending as you can easily track costs. It will also save you time and ensure you make better business decisions.
When creating a budget, it would help to:
- Create a detailed list of all the items that will lead to costs such as food and drinks, accommodation, and service fees.
- Begin by budgeting for high-priced items as they will mostly take up most of your budget.
- Look for an estimate from multiple sources and suppliers. You can also check previous pricing data for a better estimate.
- Utilize Tools for Maximum Efficiency
Large-scale events can pose a planning challenge. You may be under a lot of pressure to ensure a successful event and meet deadlines. Using event management tools can make the process a lot easier. Event management tools can automate many of the tasks. The tools can save you time and are more efficient than manual efforts.
Event management tools will ensure fewer errors. You can be more productive without hiring more staff to meet your goals. The tools can help in:
- Marketing
- Ticketing
- Registration
- Event planning
- Event management
- Networking
- Data gathering and analytics
It is vital to have the right tools that will help you in automating your intended tasks such as event registration software to register attendees.
It is best to use management tools that will encompass all the event features in a single location for large-scale events. It will make the planning and execution of the event more accessible.
Keep Track of the Event
It is essential to keep track of the event to measure its success. For years, the number of attendees and feedback surveys have been important indicators of the success of an event.
However, event management technology has changed the way event ROI is measured. Adding digital components to your event can ease data gathering as tracking the event is more efficient.
Using the best practices to make your event engaging and successful is essential in achieving your goals. Event management tools can simplify the planning and execution of events and help you focus on your goals.