A brief history of Cheltenham Festival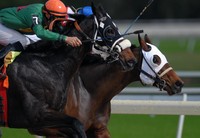 If you are a long-time horse racing fan, you are probably already looking forward to the 2022 installment of the Cheltenham Festival that will take place from March 15 until March 18 this year. It may be renowned around the world for its contribution to the global horseracing industry but its rich and colourful history remains something shrouded in mystery. If you are interested in familiarising yourself with a brief history of the Cheltenham Festival as this year's competition fast approaches, continue reading to find out everything you need to know.
The early days
In 1815, horse races were steadily becoming the norm with Cheltenham Festival heralding Prestbury Park as one of its first and foremost racing grounds. It then switched locations a number of times over the coming years with stints at both Nottingham Hill and Cleeve Hill on a permanent basis in the early days before taking place on a regular basis every August from 1819 onwards. It was also around this time that it started to attract crowds of upwards of 50,000 attendees as the sport of horse racing slowly but surely became well-known around the world.
The modern era
If you are familiar with horse racing, you will more than likely be aware of the impact of sports betting on the global horse racing scene in the late 1990s and early 2000s. It steadily became the norm for attendees to not only watch races in-person, or online as modern technology was beginning to allow for the first time, but also bet on the outcome of key races and Cheltenham bets becoming a determining factor as to why a vast majority of spectators became so involved in the festival during this time. In the years since, sports betting has endured unwavering popularity with this year's Cheltenham Festival guaranteed to attract punters from all over the world as it does every year.
The favourite winners
In the long and colourful history of the Cheltenham Festival, it has produced a number of worthy winners with some horses perhaps more fondly remembered than others. In the early 2000s, for example, Best Mate made history and followed in the footsteps, or hooves, of some of the tournament's most famous horses, such as Arkle, by winning three successive Gold Cups between 2002 and 2004 alone. In addition, Istabraq, Hatton's Grace, See You Then, and Persian War have all won the Cheltenham Festival an impressive three times over the years.
In the years since the Cheltenham Festival first emerged in the 1800s, it has produced a number of monumental milestones, stand-out moments, and worthy winners. It may have attracted crowds to the tune of 50,000 in its early days but with the ongoing popularity of sports betting and the opportunity to join the elite group of winners that have claimed victory at the tournament three times, this year's Cheltenham Festival will be worth a watch when it kicks off from March 15 until March 18.