COVID-19 & The Rise of PropTech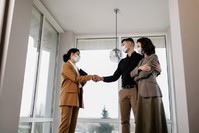 Industries worldwide were fighting for survival during the COVID-19 pandemic. In the face of physical distancing orders, businesses looked for solutions to help them work safely and engage customers. Here, technology came to the rescue. Remote working software allowed organizations to collaborate and serve clients without missing a beat, and cutting-edge websites, apps, and social media tools helped them pivot to the digital sphere.
Observers watched with interest to see if the real estate industry would react in kind. "For so long, the real estate industry has been in the dark ages," Nobul CEO Regan McGee mused to Digital Connect Mag. "But finally we're stepping into the light and seeing that business can be conducted much faster and better using these digital tools and techniques that are commonplace in other industries.
Rise of PropTech
With COVID-19 came the rise of PropTech. Short for "property technology", PropTech is any type of information technology that applies to buying, selling, or managing real estate. A classic example of PropTech is an online marketplace like Nobul, where verified real estate agents compete for the business of homeowners and homebuyers.
Such platforms rose to prominence during the pandemic because they allowed people in the real estate industry to connect without risking physical safety. Nobul stood apart, though, because it offered users transparency while protecting their privacy from realtors.
Co-working Spaces
As more businesses adopted remote working protocols, office buildings suffered high vacancy rates. Likewise, professionals who lost jobs during the pandemic like visual artists, mental health therapists, and physical therapists etc., began looking at self-employment options.
Some shrewd commercial property owners saw an opportunity to generate a little revenue. Marketing office space to such self-employed professionals through co-working apps, they rented out temporary office space for as little as an hour a week.
Contactless Technology
The COVID-19 pandemic forced property owners to implement physical distancing measures to protect the health of renters, hotel guests, investors, sellers, estate agents, and employees. Contactless technology like retina scans, biometrics, keyless cards, and remote check-in apps granted visitors secure entry.
Contactless technology also helped real estate agents show properties to clients. 360 cameras, drones, virtual reality, and augmented reality became essential PropTech marketing tools during the pandemic. IoT devices also assisted with contactless property management. For example, smart sensors remotely alerted property managers about heating and cooling issues or gas leaks, initiating maintenance calls.
AI-Enabled Background Checks
Mortgage applicants typically go through extensive background checks. Underwriters may examine an applicant's credit reports, assets, employment history, criminal background, and more to calculate the risk of lending to them. The exhaustive process requires significant person-hours that some financial institutions didn't have due to staff shortages during the pandemic. Thankfully, AI-based underwriting software made the task easier by quickly analyzing complex data like spreadsheets in half the time.
Marketing
Chatbots are software applications that simulate human speech and help with sales, marketing, answering questions, and collecting data. The use of chatbots accelerated significantly during the COVID-19 pandemic, with more investors and renters shopping remotely. Using machine learning (ML), more intelligent chatbots helped with highly specific queries from investors and renters.
While the pandemic may be on its last legs, PropTech is undoubtedly here to stay. As for the future, the sky's the limit for property technology.