Silver IRAs: 5 things to know before adding physical silver bullion coins to your retirement account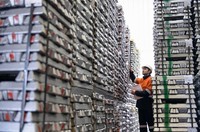 Are you looking for a way to diversify your investment strategy and get exposure to other asset classes? You have plenty of options – and should speak with a financial advisor to get investment advice – but a silver IRA could be worth considering. However, before doing so, make sure you understand the basics of what a silver IRA is, how it's set up, and some of the nuances associated with these accounts.
1. What is a Silver IRA?
A silver IRA is a special type of self-directed individual retirement account (IRA) that allows you to purchase silver and other related investments for the purposes of enjoying tax-advantaged retirement savings.
Also known as a precious metal IRA, a silver IRA allows you to invest in physical silver coins and other precious metals (including gold, platinum, and palladium). Plus, on top of being able to invest in physical bullion, you can also invest in silver stocks (companies that mine silver), silver ETFs, and silver mutual funds.
Within the heading of "silver IRA" there are two types of IRA accounts you can open: traditional silver IRA or Roth silver IRA. The main difference is that a traditional IRA uses pre-tax funds.
This means you can lower your tax bill in the year you contribute, but will owe taxes in the year you withdraw. With a Roth IRA, the opposite is true. You use post-tax funds, which means you get no immediate tax break. However, everything you hold in your IRA can be withdrawn tax-free.
2. What are the Benefits of Investing in a Silver IRA?
There's no such thing as a perfect investment, but silver certainly checks a lot of the boxes most investors are looking for. Benefits of investing in silver within an IRA include:
- Protection against inflation. As the value of the dollar depreciates, other precious metals (including silver) tend to increase in value. This has to do with the fact that people trust silver and there's a finite supply of it.
- Growing demand. Did you know that there's a growing demand for silver? This precious metal is used for far more than just coins or jewelry. It's actually a key element involved in the production of electronic devices, solar panels, and certain electrical systems.
- Long-term potential. Unlike today's hot stock or cryptocurrency, you don't have to worry or speculate about the future value of silver. We have hundreds of years of history to show us that silver will increase in value over time.
When you combine these benefits, it's easy to make a case for investing in silver. And when you do it within an IRA, you enjoy all of these benefits plus tax advantages.
3. Not All Silver IRA Companies are Created Equal
There are dozens of silver IRA companies to choose from, but they aren't all considered equal. When choosing an IRA company to hold your silver IRA, you need to be smart and strategic.
Rather than going with a brand new company that offers some insane promotional deal, we recommend choosing a fair and reputable company that's been around for a while. Regal Assets is widely recognized as one of the best. They're especially skilled at IRA rollovers from your existing brokerage.
4. Understand Fees and Restrictions
Before opening up a silver IRA, make sure you understand the various fees and restrictions that are set in place by the IRS. This may include one-time mandatory setup fees, storage fees, transaction fees, custodian fees, and cash-out fees for liquidating.
It's also worth pointing out that the IRS has contribution limits for IRAs. If you are 49 or younger, you can contribute up to $6,000 per year to all of your IRAs combined. If you're over the age of 50, you can add an additional $1,000 in catch-up contributions for a total limit of $7,000.
5. Pick the Right Custodian
With a self-directed silver IRA, you're required to have a custodian assigned to your account. This is the individual who has the legal authority to oversee and store your silver. They cannot, however, transact your silver.
When selecting a silver IRA custodian, you need someone who is officially licensed. You'll also have to consider fees, experience, and reputation.
Adding it All Up
Silver IRAs aren't for everyone. However, if you're looking for a way to diversify your portfolio and create some detachment from the stock market, investing in precious metals is a great option to consider. Silver is often referred to as a safe-haven asset and definitely has a place in a well-diversified retirement planning strategy.