Read this before trying medical cannabis edibles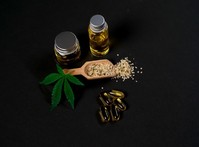 Medical cannabis has been a revelation for patients worldwide for years. As research uncovers more about this wondrous plant, patients will get even better care.
We have already learned so much about how medical cannabis works, and the results have helped countless North Americans. However, medical cannabis comes in different forms, and you should know the particularities of the type you're consuming before you begin treatment.
Here's what you should know before taking medical cannabis edibles.
Begin Low and Slow
Every medical cannabis patient should carefully follow the advice of their healthcare practitioner or cannabis-trained pharmacist from industry leaders like Medical Cannabis by Shoppers. They are likely to recommend starting with a low dosage of edibles and raising it gradually until you receive the desired effect.
Edibles usually take longer for onset to begin, and the effect is considerably more intense and long-lasting. Edibles are ideal for experienced users who need a strong dosage or those whose metabolisms process cannabis quickly.
Store Them Safely
Just like Aspirin and Tylenol, medical cannabis edibles come in childproof containers, and for a good reason. The recreational cannabis market's branding sometimes uses packaging designed to target children by mimicking the packaging found on candy.
Medical cannabis edibles always fit the legal requirements outlined in the Cannabis Act. Far from the cartoon packaging that perniciously resembles ordinary candies, medical cannabis edibles' packaging has a standardized cannabis symbol, mandatory health warnings, and includes specific product information.
However, you should still store them out of reach from children, just like people often keep alcohol locked safely away.
Edibles Can Meet Your Dietary Restrictions
People understandably associate "cannabis edibles" with things like brownies or cookies because, for years, those were the most common forms. The story has changed as edible cannabis products have broadened out to accommodate people on a range of diets.
There are pharmacies that stock products from up to 35 licensed producers, including dissolvable powders, teas, and more. You don't need to fear that medical cannabis edibles will necessarily contain a lot of sugar.
Stick to One Dose
There's a danger that patients may consume a cannabis edible and then take more before the effect from the first one kicks in. Patients should stick to their healthcare practitioner's or cannabis-trained pharmacist's recommended dosage.
It's perfectly normal not to feel anything for an hour or so, as edibles usually take a while to kick in. It's better for the effect to be too mild than the reverse. Then, you can increase it afterwards in consultation with your doctor, rather than risk taking a dosage level that will make you uncomfortable.
If the effect of the edible is too strong, don't worry! Just relax somewhere comfortable and rest until it goes away, usually in a few hours.
Medical cannabis has been a revelation for many patients experiencing a range of symptoms. Speak to your healthcare practitioner or medical-cannabis-trained pharmacist about whether cannabis edibles are right for you, and if they are, keep the above tips in mind before you begin treatment.