What is Airtable, and what is it used for?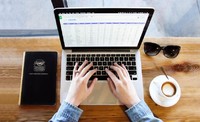 Almost every organization has various departments, including finance, marketing, sales, etc. Each department often generates its own data, creating the need for a centralized system for data organization.
In most instances, companies will rely on databases to organize their data. The main problem with this option is that most database tools are complex, time-consuming and require a lot of technical know-how to make sense of the data, and that is where Airtable comes in.
So, What is Airtable?
Airtable is a simplified project management tool used to unify organizational data in spreadsheets, helping teams organize and structure their data workload. In simple terms, Airtable is a spreadsheet tool with database functionalities.
Many companies use Airtable to run their most important business processes. These include tracking job interviews, managing large-scale video production, tracking expenses, product planning, managing image databases, etc.
As powerful as it may be, Airtable lacks a frontend that can help turn data into a digestible form, which is especially important for collaboration with team members with little or no technical SQL knowledge.
But all is not lost. You can still build an Airtable front end with the help of an expert.
What Is Airtable Used For?
Data Organization
The main reason an organization will want to have a database is to organize and collect all its data in a centralized place. With Airtable, gathering data from the various departments in an organization is pretty simple.
Unlike other tools that often require individual departments to enter their data manually on the main database, Airtable allows you to pull data from the different sources and automatically populates the relevant fields.
Irrespective of how your data is scattered or formatted, Airtable importing functionalities bring it all together in real-time, allowing your teams access to the most up-to-date data.
Product Launching
If you have launched a new product in the past, you may be familiar with how hectic things can get. But not so much if you are using Airtable in your product launch.
Airtable has a product launch template designed to ensure that everything stays on track from the beginning to when your product takes off. This feature allows for collaboration among the team members, which helps keep things in order and creates a separation of responsibilities.
For example, the priorities of the sales team could differ widely from those of the marketing team. With Airtable, every team has the freedom to work on what they prioritize without affecting the other team.
Social Media Planning
Effective social media planning usually involves a multi-department collaboration.
For example, you will need a content writer to draft a punchy message to push your social media marketing efforts. You will also need a graphic designer to help you develop the right image to accompany your message for maximum audience interaction.
With the Airtable, content creators, graphic developers, and even the marketing team can collaborate easily, thus ensuring a smooth workflow and satisfactory outcomes.
Whatever You Need
Organizational needs are unique. What works for one company may not work for the other.
Airtable is designed with that in mind, and you will find a template for virtually anything you need, including product development, event planning, and running a nonprofit.
The best thing is that it is easy to customize to fit any industry and organizational needs. However, customizing Airtable to match your unique business needs may sometimes become challenging. But not so much if you let an Airtable expert create custom applications that are truly unique to you and your organization.