Could you blitz these buffalo themed reels?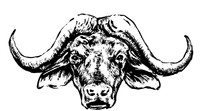 When it comes to the weird and wonderful world of online casinos, there are so many gaming options for us all to choose from, all available at the tap of an app or click of a button on our device of choice, connected to a reliable internet source.
There are games that have travelled through the centuries to reach us, such as Roulette, Blackjack and Poker, and others that have recently joined the virtual casino floor within the slot section. These provide us various themes and game grid sizes, all waiting for us to delve into.
On the virtual casino floor, there are a variety of themes to choose from, including food, time travel, outer space, gameshows and even animals.
One wild animal that's taken the virtual casino by storm, is none other than the buffalo.
With online slots featuring this magnificent animal popping up all over the virtual casino floor, we wanted to venture deeper into one slot that's created a game grid where the buffalo rules the roost.
Follow us as we take a spin within the reels of Buffalo Blitz to see the mighty buffalo in action.
Scroll to discover more.
Buffalo Blitz
This Buffalo Blitz slot is the original slot that kicked off the Buffalo Blitz series, which includes a sequel to this slot – Buffalo Blitz II – a Megaways slot, a Buffalo Blitz Live version, as well as a few others.
So, what do you discover when you first enter the slot? The American Plaines – one of the many places around the world buffalos call home.
Front and centre of the screen, you'll find a game grid comprised of six reels and four rows, where you can wager anything between 0.40 and 80 credits each spin. With each spin spun, there are 4,096 ways to create a winning match.
Symbols
To create a winning combination across the reels at play, you'll need the help of some of the wild animals and other symbols that can be found trekking around the reels. These symbols include:
- Playing card symbols, 9, 10, J, Q, K and A
- A moose
- A bear
- A racoon
- A mountain lion
- The almighty buffalo
- 'Free Games' scatter symbol
- A clear blue diamond – the wildest symbol of them all
Free Spins Blitz
If you manage to reel in three or more 'Free Game' scatter symbols within the same spin, you'll unlock the Free Spins Blitz feature, which awards you with free spins to use towards your gameplay, free of charge.
However, many scatter symbols you use to unlock this bonus feature, will determine how many free spins you'll see spinning your way to use on these wild American Plains reels.
- Three scatter symbols will unlock – 8 free spins
- Four scatter symbols will unlock – 15 free spins
- Five scatter symbols will unlock – 25 free spins
- Six scatter symbols will unlock – 100 free spins
The great thing about this bonus round is the fact that if you spin in more scatter matches, this will retrigger more free spins your way. So, you could see yourself potentially blitzing the reels with 200 free spins!