MAN six-wheeler makes its debut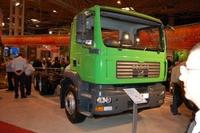 Making its first public appearance in the UK is MAN's 'cruiserweight' TGM rigid six-wheeler. The 26 tonnes gvw 6x4 is the last model in the German company's regeneration programme, which began with the heavy-duty TGA tractor and eight-wheeler chassis and continued with the launch at the NEC two years ago of the light/medium duty TGL, aimed principally at the 7.5 tonne segment.
Though MAN was without a six-wheeler on the UK market for many years, the subsequent adoption of the light and compact cab from Steyr (inherited when MAN acquired control of the Austrian manufacturer in 1991) enabled it to become a major player in the three-axled rigid market with an attractively light and competitively priced chassis.
There has been another wait for operators as MAN has geared up for TGM six-wheeler production. It is a far more advanced and better equipped model than its predecessor, but it remains to be seen whether operators of the former model, especially in the crucial tipper sector will be ready to pay the inevitably higher price for the TGM, which also brings a payload penalty.
MAN's commitment to EGR NOx reduction, requiring no regular AdBlue replenishment, could prove critical on its 6x4 contender, where typical tipper operators instinctively opt for simplicity.
At 7.5 tonnes, MAN's TGL chassis could benefit even more from the EGR stategy. Many users in that weight segment are rental companies or small tradesmen for whom the SCR – standard in all other 7.5 tonners, apart from the Japanese contenders – could be one complication too far.