Volkswagen relies on 'heavy' support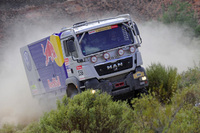 When the five Volkswagen Race Touaregs cross the start of the Dakar Rally on New Year's Day 2010, they will not be the only participants competing for the Volkswagen Group. Two MAN race trucks are also registered in the competition and, if the worst comes to the worst, they will act as a mobile spare parts store and support for the team. It is extremely difficult for racers from other disciplines to imagine but it is almost impossible to solve problems encountered on the 9,000 km route of the Dakar Rally in any other way.
While the service vehicles from each team must often follow recognised and civilised roads instead of the treacherous terrain, the Volkswagen team's service vehicles support the Race Touaregs during the competition by competing along the same route. During the Dakar Rally the basic rule applies - when the stop watch is running only participants can help each other. This is why many large teams enter special race trucks in the truck category.

This approach has proven itself at Volkswagen since the first day and the knights in shining armour, nicknamed the 'Blue Angels', have helped more than once by providing parts after small or larger accidents or towed defective race cars to the finish – clearly defined sport penalties included. During the two-day marathon stages, of which there are none in 2010, only these race trucks were allowed to offer help in the past at the evening half-way halt.

This year, two race trucks are competing for Volkswagen driven by François Verbist / Jürgen Damen / Milko Laukamp (B/B/D) and Tom de Leeuw / Dirk van Obbergen / Thorsten Goldberg (B/B/D). The trucks traditionally start with three team members with a specially trained mechanic taking a seat in the cab alongside the driver and navigator.
The two twin-axle trucks, a MAN TGA 18.480 (4x4) and MAN TGA 26.480 (6x6) are smaller, lighter and stronger than the other trucks in the Dakar convoy. Generating more than 500 hp and 2,400 Nm of torque from the 12.5-litre engines, both are equipped with permanent all-wheel drive and have relatively low fully laden weights of only 10 and 12 tonnes respectively ensuring they are agile and all-terrain. Carrying the most necessary spare parts, tools and recovery equipment, these teams are starting the Dakar Rally in the hope never to be needed.

Volkswagen's iPhone Dakar Rally app: volkswagen-motorsport.com/dakar_iPhone