London roll-out of contactless debit and credit cards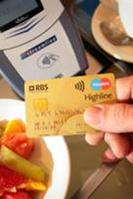 To coincide with the announcement by APACS that the UK banking industry is gearing up for the launch of contactless payments in the UK, Royal Bank of Scotland Group (RBS) and MasterCard Worldwide announce the results of the first live trials of 'Tap & Go' payments in Europe.

The first of two trials of contactless payments in the UK began in June 2006 and is taking place at RBS's headquarters in Edinburgh. It involves 11 retailers located in the Bank's flagship site including coffee shops, pharmacy, florist and a hairdressers. The second trial is taking place in the staff restaurant at one of its London offices. Some 1,500 staff volunteered to take part, paying for everyday, low value items (under £10) using their Maestro PayPass debit and MasterCard PayPass credit cards. Both trials are still ongoing.

Feedback from RBS employees has been extremely positive with participants able to make swift purchases by simply tapping their PayPass-enabled card on a specially equipped terminal at the till, eliminating the need to handle cash or coins, hand their card over to a clerk, or swipe a card.

Over 40,000 transactions have been made with contactless cards so far during the trial and RBS employees who use a contractless card are really impressed with its convenience. David Streett who works in RBS Retail Market Support in London says: "The card is really easy to use and it means I don't have to worry about going to the ATM or having enough change in my pocket to pay for my lunch."

Lisa Roberts, who works in RBS Business Development also in London added: "The contactless card is much quicker than paying with cash and I don't have to carry so much change."

David Rockliff, Head of Business Development, Cards and Direct Finance, RBS comments: "RBS undertook the first trial of contactless cards in Europe, we have been using them in shops and cafes based in our headquarters in Scotland and in our London office since June 2006. Research amongst our employees reveals that nearly three quarters say it is better and faster than paying with cash and 86% say it is more convenient than paying with Chip and PIN.

Our practical experience with contactless cards from both the UK and the USA means that we are confident that customers and retailers will quickly take to the speed and convenience that they offer for making small purchases."

John Bushby, Country Manager, MasterCard UK comments: "Our experience testing MasterCard PayPass and Maestro PayPass among staff at Royal Bank of Scotland's offices in Edinburgh and London has shown us that consumers love the convenience, simplicity and security of being able to 'Tap & Go' when paying for everyday things such as newspapers, sandwiches and drinks.

"MasterCard is delighted to be behind the delivery of contactless payments in the United Kingdom as we are already the global leader in this new way to pay. Around the world we have issued over 14 million MasterCard PayPass cards and devices that can be used in some 51,000 retail outlets. We are confident that consumers in the United Kingdom will be quick to adopt contactless payments as they are faster and more convenient than cash increasing both the number of cards in issue and, as retailers benefit too, places where they can be used."

Following the positive feedback received from both staff and retailers, RBS is now working with MasterCard and the UK card payments industry towards the first phase of the public rollout in London in the autumn. RBS, NatWest, MINT and Ulster Bank will issue several hundred thousand contactless payment cards, both debit and credit, during the London launch of the rollout to those customers who live in the roll-out zone. These cards will retain the existing chip and pin and magnetic stripe functionality.

The London Launch area covers the London Corridor, north and south of the Thames, running from Waterloo to Canary Wharf. This includes the following postcodes - EC2, EC3, EC4, E1, E14, SE1 and SE16.