Shoes and snogging at London Fashion Week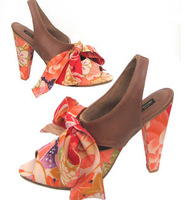 While London Fashion Week is typically for those very lucky, well-connected few; shoe designer Hetty Rose has decided this year to offer a little taster of fashion week for everyone.
Close to where the shows are taking place next month on Thurloe Place, South Kensington, the designer who is known for her use of vintage Japanese kimono fabric, has teamed up with frozen yoghurt shop Snog, to produce their own spin on Fashion Week.
Hetty Rose launched the Kimono Collection at Estethica at London Fashion Week, last September, but this year decided to offer a snippet of London Fashion Week to all.
Hetty said: "I really wanted to show people what we are doing in an easy and convenient way that is accessible to everyone."
Open daily during 14 to 19 September, people will be able to pop into Snog to see some of next season's beautiful collection of shoes and accessories, which are completely hand made using mainly reclaimed, recycled and vintage stunning Japanese kimono fabrics. They will also be able to chat to the designer on 17 and 18 September and find out all about her work, as well as nibble one of Snog's delicious organic, frozen yoghurt's topped with fresh fruit.
Rob Baines, founder of Snog says: "We're really excited about creating a little slice of fashion week in our shop. We want people to pop in for a delicious healthy treat and enjoy looking at these fabulous shoes. Snog has a strong commitment to quality design and giving our Snoggers an unexpected experience. So come by, see the collection and why not have a cheeky Snog?"
For more information, visit Ifancyasnog.com and Hettyrose.co.uk.