Errol Douglas wins Afro Hairdresser of the Year award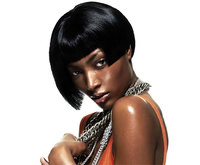 British Hairdresser of the Year nominee Errol Douglas added to his trophy cabinet last week with his second award in two days, taking home the title of Afro Hairdresser of the Year. As this is the third time he has won the coveted British Hairdressing Award in the Afro category, Errol will now join the British Hairdressing Hall of Fame at next year's ceremony.
Errol, who also scooped the top award at the annual Black Beauty / Wahl Hair Awards on November 26, being named Stylist of the Year (the first time ever these awards have been won back to back) says:
"It was amazing to win, and I'm thrilled to be going into the Hall of Fame. At the salon, we've always been about both European and Afro hair – we specialise in all hair, not one or the other. This photographic collection (below) reflects the mixed nationalities and different hair types that are becoming more prevalent in our diverse society.
"Hair's essentially textural, not just cultural, and this collection isn't 'specialist' afro hair; it's something that I would be as likely to create for a catwalk show as for a client in the salon. It's a powerful collection that's very directional, and this is where I think afro hair should be going. It's looser, freer of products, fluid and very now. It's about strong cuts, shapes and colours, and high energy."
Renowned for his stunning photographic work, Errol has won several of the world's most coveted awards. He has been nominated eleven times for British Hairdresser of the Year, winner of the Afro category twice, overall AIPP Grand Trophy winner, the Fellowship for British Hairdressing's Hairdresser of the Year, the Fellowship Gold Salon Consumer Award (2 consecutive years), Creative Head Media Darling of the Year and the British Master Award at the Australian Hair Fashion Awards ceremony.
In summer 1998, Errol opened the Errol Douglas salon in London's gorgeous Belgravia Village. The salon's immense success is testament to the dedication of Errol and his team of talented stylists. Hailed as a fusion of European and Afro styling, the salon set its unerring standards in the early 2000's, with services such as a masseur, nail technician, in-house catering service, chauffeur, exclusive jewellery range, personalised umbrellas, V.I.P entrance and the much publicised Express 2 Impress packages for swift styling.
Errol is now the figurehead for professional products brand Matrix, and 2008 sees the salon's 10th birthday and the introduction of a fabulous new hair treatments area – watch this space for more exciting developments.
Errol Douglas is at 18 Motcomb Street, Knightsbridge, London SW1X 8LB
Appointments: Erroldouglas.com