Neve Campbell goes wavy with new organic perm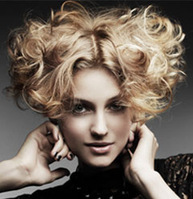 Gorgeous star Neve Campbell has got a sexy new look courtesy of an organic perm at Karine Jackson Hair and Beauty in London. Neve's hairdresser, session stylist Tara Smith, recommended that Neve have the perm with London Hairdresser of the Year Karine Jackson because it's ammonia-free and much more gentle than regular perms.
Says Karine: "We're doing more perms than ever now, as the trend for curls and waves has really taken hold. The organic perm I use is by Herb UK and is really nice and gentle on the hair. You can use bigger rollers for more of a wave or medium sized ones for Neve's curls."
Says Tara: "Neve loves having her hair wavy so it made sense for her to have it permed and save her the time doing it. A good cut combined with the perm means her styling time is cut in half now!"
To keep her curls in top condition, Neve is using Tara Smith C Curls Shampoo and Conditioner and Tara Smith Base Coat Serum – apply to wet hair for even distribution and style. A diffuser is another styling essential. Pleased with the results, Neve says "I love my organic perm because it's given my hair fantastic body and volume without all the styling time. I use C Curls shampoo and conditioner for shiny, soft and defined curls and I alternate with Feed The Root Shampoo and conditioner to nourish my hair and scalp.
Tara Smith Base Coat Serum is my must-have styling product, I use it every time after I wash my hair because it leaves it in the most beautiful condition.
A cut with Tara Smith starts at £250. For those who want the Tara Smith experience without the price tag, her natural and organic product range, straplined 'TESTED ON FILMSTARS, NOT ON ANIMALS', is on sale in Tesco from October 2008.
A perm at Karine Jackson's salon costs from £70 - £95; Karine also uses organic colour from Herb UK.
Karine Jackson Hair & Beauty is at 24 Litchfield Street, Covent Garden, London WC2H 9NJ. See karinejackson.co.uk for more information.
Tara Smith's products are available through Tesco or see Tarasmith.co.uk.