Tara Smith named celeb hairdresser of the year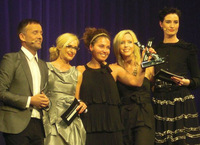 British hairdresser Tara Smith has been named The Clothes Show Style Awards' Celebrity Hairdresser of the Year, as sponsored by Your Hair, Hair Ideas and Blonde Hair and voted for by the general public.
Tara received the award from hosts Erin O'Connor and Brendan Courtney, Nicky Hambleton-Jones, and Your Hair Editor Michelle Tiernan, at the fantastic show, at which Fearne Cotton and George Lamb were also awarded gongs.
Marisa Tomei, Demi Moore and Natalie Imbruglia all agree that when it comes to caring for their hair, Tara Smith is the lady for the job. Tara has an enviable CV, with Kristen Davies, Anna Friel and Rosario Dawson all fans.
Demi Moore even supported Tara by twittering her followers to vote at loveyourhair.com.
Tara recently put all her knowledge, love for hair, and environmental ethos into a bottle, creating Tara Smith's natural and organic hair care range – the products have scooped three awards, the C Curl range won the Kiss & Make Up award for Best Shampoo and Conditioner 2008. The Base Coat Serum has been named Winner of the Natural Health & Beauty Awards' Styling Product category, while the whole range was also named Highly Commended as the Best Organic launch at the Pure Beauty Awards, as voted for by the general public!
On winning her award, Tara said, "I feel a little overwhelmed to be in this arena with the other nominees. It's a huge honour to win; the Clothes Show are ambassadors of style in the UK and it's amazing that they've set up this award – it really shows how inextricable hair and fashion are."
For a slice of A-list hair heaven, get Tara Smith natural and organic hair products at Tesco or online from cultbeauty.co.uk - and from July 2009 they'll also be launching at ASDA. The price-point is a wallet-friendly £2.25 - £4.99.
"Tara Smith's Base Coat Serum I love! It works really well with my curly hair and makes it feel lovely and soft" says Anna Friel.
"Base Coat Serum is my must have hair product. It leaves my hair feeling really soft and healthy, and has boosted its shine brilliantly. It's important to me to use eco friendly products so the fact that it's been so lovingly developed and isn't tested on animals is fantastic" comments Natalie Imbruglia.
For more info on Tara see tarasmith.com.