Australian Boost Juice Launches In UK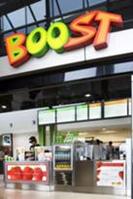 Boost Juice, the Australian retail phenomenon, is set to conquer new territory this month with its first two juice bars opening in the UK. Under a master agreement, the founders of Millies Cookies, Richard O'Sullivan & Mario Budwig - are set to unveil the new juice bars in The Trafford Centre, Manchester and The Clarendon Centre, Oxford in April.
Boost has become Australia's fastest growing retail chain & has been compared to the likes of Starbucks, with a growth platform of around 34 stores a year on average since its conception in 2000. The UK is the fifth international market the brand has entered behind Chile, Kuwait, Singapore & Indonesia, and is set to launch in another four countries by year end.
The Boost Juice Bar concept – offering a quick, affordable, healthy and natural snack for people on the go - was conceived by Founder and CEO Janine Allis, who had struggled to find such snacks for her three young boys. Upon realizing this gap in the market, the Boost Juice bar concept was born, and today, a delicious range of fresh fruit juices and smoothies - that contain absolutely no preservatives, artificial flavours or colours and are at least 98% fat free - are offered.
The company prides itself on the promotion of a healthy and active lifestyle mixed with an uncompromising addiction to fun displayed through it's addictive in-store vibe of enthusiastic staff who have a natural 'love life!' attitude which sees them dancing, juggling & singing behind the counters – and through the exclusive VIBE Club which rewards loyal customers with daily offers such the 'Monday Sucks' free upgrade, or the 'tight-arse-tuesday' buy-one-get-one free offer!
As pointed out by Steph Malkin, UK Marketing Director, the brand offers British customers 'more than simply healthy & delicious products, it also offers customers a unique experience oz-style which sets Boost apart from other retailers'.
The juice and smoothie market has increased substantially in the UK over the last few years, with more and more consumers opting for a healthier lifestyle, urged on by warnings about obesity and encouragements to eat their '5 a day'.
Such trends are revolutionising food and beverage markets, creating an ideal environment to introduce retail concepts such as Boost Juice Bars.
See boostjuicebars.com.