Follow Noel Gallagher's Lead With Monkey Shoulder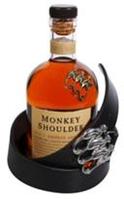 In homage to the skilled craftsmen who create Monkey Shoulder triple malt Scotch whisky, Jeffery-West, the award-winning gentleman's shoemaker, has produced a limited edition leather belt incorporating a '3 monkeys' buckle.
Only 50 are available from Jeffery-West shops and each has been signed and numbered by the Monkey Shoulder Malt Master, David Stewart, making this one of most covetable fashion accessories of the year.
Monkey Shoulder has become a firm favourite with the rock and roll fraternity; Noel Gallagher, Alex Kapranos, Kate Moss and Beth Ditto are all fans. Such is its popularity, it recently graced tables at the NME Awards, is the spirit of choice at celeb hangouts Mahiki, Boujis and Bumpkin and has caught the imagination of avant-garde English shoemakers Jeffery-West.
At the forefront of men's footwear and worn by everyone from Jarvis Cocker to Leonardo Dicaprio, Jeffery-West has partnered with the whisky brand due to the shared principles of using handcrafted techniques with a modern twist and the finest quality products to create truly unique and stylish merchandise.
Northampton based design-duo Jeffery-West create 'infamous English shoes' with a strong nod to tradition and each with its own signature twist of originality, and the Monkey Shoulder belt is no exception. Made using quality British leather, it's black in colour and the buckle carrying the '3 monkeys' icon is made of luxurious pewter. Worthy of the £70 price tag, each belt has been hand-signed by the Malt Master David Stewart and comes with a complimentary 70cl bottle of Monkey Shoulder triple malt Scotch whisky.
An invitation-only preview evening will be held at the Jeffery-West Leeds store on April 20th and the London Piccadilly store on April 26th.
So why 'Monkey Shoulder'? The name is inspired by, and in honour of, the malt men and their passion. Made by the only Highland distiller still to turn the malting barley by hand (using a shiel – a special wooden shovel), the term 'Monkey Shoulder' describes a temporary injury the malt men suffered many years ago from this arduous work. Thankfully, work practices have since changed and the condition no longer exists, but the name is a nod to the craftsmanship that goes into making this unique triple malt whisky.
And why the '3 monkeys'? They represent the three single malt distilleries whose product is blended together to create the triple malt that is Monkey Shoulder. It has quickly become an important part of the iconography for the brand, appearing on the bottle as well as other desirable accessories such as Money Clips and Cufflinks, also made in pewter.
So what's next for this cool, iconic triple malt whisky? Perhaps a necktie or some clever male grooming accessories. Who knows? One thing's for certain, expect the unexpected from Monkey Shoulder. It is after all, it's not the original whisky, it's more original than that.
• Monkey Shoulder 3 Monkeys Belt Gift Pack retails at £70.00 and includes belt and complimentary 70cl Monkey Shoulder bottle
• Monkey Shoulder Triple Malt Scotch whisky is made by William Grant & Sons Ltd, makers of quality Scotch whiskies Glenfiddich, The Balvenie and Grants, and Hendrick's Gin. Visit Williamgrant.com to find out more.
• Jeffery-West is one of the UK's leading footwear and accessories designers. They have stores in London, Leeds and Nottingham. A list of other stockists can be found on Jeffery-west.co.uk.