Balblair announces exclusive release of rare 1965 vintage whisky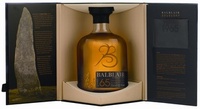 Multi award-winning Balblair Highland Single Malt Scotch Whisky has unveiled its oldest and most exclusive vintage release to date - Balblair 1965, which will be one of the finest additions to the Balblair portfolio. Just 350 bottles of this rare and limited edition vintage will be released and each bottle will retail at £1250. The vintage was distilled on 23rd March 1965 and slowly matured in Single American Oak ex Sherry casks.
Bottled in its purest form at natural colour and strength of 52.3%, Balblair 1965 is bright golden in appearance, superbly well-balanced, slightly smoky and with aromas of honey, raisins, pears and lemons. On the palate it is sweet, creamy and spicy with traces of honey and a slight smokiness, leading to a long-lasting finish.
Each Balblair 1965 bottle is truly special, containing a bespoke Certificate of Authenticity, a booklet and a letter hand-signed by Distillery Manager John MacDonald, informing consumers that they are entitled to receive a free limited edition print of the Balblair distillery by acclaimed Scottish photographer Fin Macrae. Such a collectable item is worth £300 and every print is numbered and signed by Fin Macrae.
Only the world's finest specialist whisky stockists in the UK and internationally will be allocated a few bottles of this exquisite limited edition vintage malt.
Says Distillery Manager John MacDonald: "With Balblair 1965 we have found an exceptional dram and all the hard work, dedication and devotion from the team here at Edderton has really paid off. It is very rare to discover such an old yet perfect vintage and everyone at the distillery is very proud. We hope that whisky aficionados around the world who have the chance to savour Balblair 1965 truly enjoy this most complex and beautifully crafted fine malt."
Balblair Highland Single Malt Whisky is one of the whisky world's finest and most exquisite products. The malt is 'devoted to detail' in every sense: its contemporary and award-winning design, perfectly crafted taste using only the finest ingredients, its careful selection and production, the expertise of Distillery Manager John MacDonald and its association with the finest, contemporary brands and luxury markets all contribute to Balblair's continued global success amongst discerning consumers.
Balblair Highland Single Malt Scotch whisky, which is part of the Inver House Distillers portfolio, has won a multitude of awards this year including Gold and Bronze at the recent International Spirits Challenge 2008, Gold: Best in Class at the International Wine and Spirit Competition 2008 and two Gold Awards at the Scotch Whisky Masters 2008. Furthermore, Balblair contributed significantly to Inver House Distillers' highest accolade so far, the International Distiller of the Year award at this year's Icons of Whisky.
At Balblair distillery, on the shores of the Dornoch Firth in Edderton, Tain, super-premium vintages are diligently handpicked by Distillery Manager John MacDonald and only the finest whiskies – those that have matured and reached absolute perfection – are chosen to be released. After nosing a selection of barrels at the distillery, Balblair 1965 was discovered and selected to be released as it had reached the peak of maturation and excellency.
To find out more about Balblair, log on to balblair.com.