Ski season in the Alps has arrived and competition over property is fierce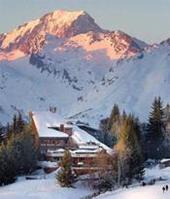 The long awaited ski season in the Alps has finally arrived and with this comes fierce competition over properties as many are snapped up by investors. The French property market continues to perform to the highest levels and there has been a marked increase in the number of British investors now buying ski properties rather than their traditional approach of renting in the main season.
Hotel du Golf is a leaseback investment opportunity in the Les Arcs region of the Alps. This four star development offers unparalleled facilities and comes to the market as a 'pure' investment opportunity. Capital gains potential is extremely high and rental income is guaranteed at 4.5% net per annum for a minimum of 9 years. Prices start at just £64,184 for a studio apartment rising up to £109,450 and above for a one bedroom apartment.
Julien Lu Regional Director of IMOINVEST says, "Property markets tend to go in cycles and with the UK at a sluggish stage it has led many British investors looking overseas in order to achieve capital appreciation. Investing in strong markets such as the French ski market is actually a shrewd move. Rentals throughout the main ski seasons vary but are among some of the highest in Europe and in the long run it is almost certainly more cost effective to buy rather than rent. The fear of emerging ski locations in 'new' European countries has been unfounded and if anything has further enhanced the French ski resorts as a premier destination. France is a thoroughbred country that enjoys strong economics and is not solely reliant on tourism. It benefits from an abundance of budget airline flights and is renowned as worldwide popular destination. Those looking for a strong investment providing good capital appreciation and high rentals would struggle to find anywhere in Europe that offers the same potential, I believe that the next few years will see significant property price increases as more and more investors look to take advantage of the French market."
Rentals in these sought after areas according to the FNAIM (Federation of Nationale de I'Immobilier) have already reported a 3% rise in 2006. This big increase in rentals endorses the fact that property price increases are expected. Average growth in the French Alps for the last ten years has been at an outstanding 10% per annum. The reason for this is that there are limited properties available but with a much higher demand. In France you have what is called a 'Loi montagnes' this actually limits the number of building permissions delivered to French developers in order to protect the environment and landscapes.
Julien adds, "If you are planning to purchase a property in any of the French ski resorts you must make sure that you have your paperwork ready and that you are in a position to put a deposit down. Such is the 'bullishness' of this market that a property that you have viewed may no longer be available after a few hours. The local property markets are in full swing and there will be no let up in the following months as there is no shortage of investors."
IMOINVEST are full service advisors offering knowledge of the financial and investment aspects that apply to each of their developments. IMOINVEST now have main offices in Paris, London, Berlin, Alicante, Sofia, Sunny Beach, Tallinn, Washington DC, Dublin, Orlando, Villinus and Montreal.
For further information, visit imoinvest.com.