New ski property at Bisanne 1500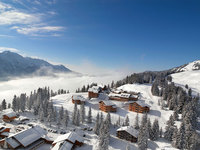 A French Alpine village which only a few years ago was a remote hamlet of just a handful of ancient farm buildings has become the latest addition to what is tipped to become one of the world's biggest ski areas with more than 600 km of linked ski slopes. Now it is gearing up to accommodate growing numbers of skiers drawn by the increasing popularity of the area.
This month French developer MGM takes the wraps off plans for a development of 117 new ski-in/ski-out apartments for outright purchase close to the centre of Bisanne 1500, the seventh village to be incorporated in the Espace Diamant ski area.
Created three years ago and already one of the biggest ski areas in France, it comprises 185 km of ski runs on 154 slopes. Plans are in hand for further expansion, linking it to the 300 km of slopes of Megeve / St Gervais and the 120 km at Hauteluce / Les Contamines.
Bisanne 1500 is five minutes by car from Les Saisies, the 1992 Olympic resort for the cross country ski event and one of the Espace Diamant ski resorts. The others are Hauteluce, Crest Voland Cohennoz, Notre Dame de Bellecombe, Flumet and Praz sur Arly.
Says Richard Deans, sales consultant in MGM's London office: "Snow is virtually guaranteed throughout the winter in this region. The topography and airflows in the area close to Mont Blanc combine to create a micro-climate. It results in significant snow levels throughout the ski season every year, despite the fact that the altitude is not as great as that of some popular resorts."
Construction work on the new residential development, La Perle des Alpes – the fourth undertaken in the village by MGM – will start next year. Located 200 metres from the restaurants and supermarket, the sunny south-facing sloping site in a peaceful setting has what Richard describes as "spectacular panoramic views of the Mont Blanc range with year-round activities on the doorstep."
In addition to skiing, they include hiking, mountain biking, white water rafting and paragliding.
"Now is a good time to buy property at Bisanne 1500 because the plans for further expansion of the ski area means that values are set to rise significantly," says Richard.
At La Perle MGM will create a mix of properties ranging from one-bedroom apartments with floor areas of 32 sq m to a four-bedroom, three-bathroom duplex of 113 sq m.
Available at off-plan prices which start at €170,000 – including underground parking space, cellar storage and a ski locker – the first apartments are due to be ready for occupation by the end of 2011.
Unusually for a development of this type, the scheme includes an indoor pool for use by residents.
The nearest airport is at Chambery, 70 minutes by road from Bisanne 1500. Geneva Airport is 90 minutes away and Lyon and Grenoble are both one hour and 50 minutes by car. For snow train travellers, the railway station at Albertville is 30 minute drive.
For more information, visit mgm-constructeur.com.