Buy new and you could enjoy lower fuel bills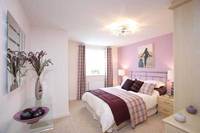 With reports that household energy bills could increase by as much as 40 per cent this winter as oil and wholesale gas prices hit record highs, now is the time to ensure your home is as energy efficient as possible. The increases in energy costs could mean households paying £400 more a year on average for their gas and electricity, and this figure could rise even higher if your property is poorly insulated.
Home owners looking to reduce this latest impact of the credit crunch on their bank balances should consider a move to a new build property, according to Persimmon Homes. Not only will purchasers save on the ongoing costs of maintenance on an older property but with new homes boasting excellent insulation they could make significant savings on their energy bills. Indeed, proven to generate over 60 per cent less CO2 emissions than an older property (the equivalent of taking one car off British roads or driving 10,000 miles less a year per household), a new build property could save home owners over £500 on average energy bills.
"The advantages of buying a new build property have been well documented in the press, however, now more than ever, the financial saving associated with a new home could make a huge impact on home owners disposable income," commented Claire Jarvis, sales manager for Persimmon Homes Mercia. "A saving of £500 could make a big difference in helping consumers counteract rising living costs without having to cut back on the luxuries they enjoy.
"As a developer we are also responding to the tightening economy by offering house hunters a wide choice of purchasing options designed to make securing a home in the current climate as easy as possible," continued Claire. "A low interest rate combined with extremely competitively priced properties means now is clearly a buyers market so there's no reason not to make a move this summer."
The message is clear - whatever your budget, circumstance or requirement, Persimmon Homes has an energy efficient new home, a deal and informed advice available to get you on the move - three key factors that should certainly help boost consumer confidence.
Persimmon Homes Mercia is currently creating new communities in Helsby, Newcastle under Lyme, Shrewsbury, Stafford, Wistaston and Wrexham. For further information on your nearest development, log on to Persimmonhomes.com.