Affordable timber frame housing development in Worthing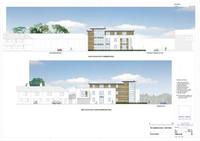 London-based architect Biscoe + Stanton has announced that its timber frame affordable and sustainable housing project in Worthing, West Sussex for Bellwinch Homes, part of the Keir Group, is currently on site. The scheme is due for completion in December.
Employing modern methods of construction and comprising six one bedroom, and seven two bedroom, well appointed apartments with drive-through parking to the rear for seven cars, the Dominion Road development is set to provide homes for up to 40 people.
The plan form cleverly makes use of a previously developed site, providing a dense development set back from the roadside with soft landscaping around the perimeter to give an improved townscape.
Imaginatively designed by the architects, the building's primary structure above ground includes timber frame with external cladding finishes in crisp white render, creating main frontages to Dominion Road and adjacent Southdownview Road.
Three storeys high and situated on a corner site, the L-shaped development steps down to two storeys on Southdownview Road. The new structure's strong horizontal roofline is raised at the corner and its two roof levels accentuated by shaped projecting eaves formed in aluminium.
Timber patterned panelling has also been employed to help express the scheme's top storey and corner, which is further articulated by full height glazing. Aluminium detailing and aluminium window frames are also featured.
Juliet balconies and large, triple glazed windows have been specified for optimum daylight and undisturbed views of the surrounding area.