New development is 'Gateway' to regeneration for Harwich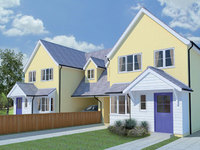 Inner Circle Homes is gearing up for the official launch of its latest development 'The Gateway' in Dovercourt, Harwich, a collection of one and two bedroom apartments and two and three bedroom homes, with starting prices from as little as £115,000. The launch of the first phase of homes will take place on the 26th and 27th of April where interested purchasers are invited to visit the development and view the two new showhomes available.
The Gateway has been designed with careful consideration and attention to detail with Inner Circle Homes looking at the long term lifestyle of the community. At the very beginning of the project, Inner Circle Homes addressed the flood plain surrounding The Gateway and has carried out extensive works to provide residents with the safety and knowledge that the development is now at the lowest risk of flooding in the area. The company has gone over and above what is expected of them in the planning permission document to provide residents with a low maintenance and stress free environment.
For example, Inner Circle Homes has independently liaised with the environment agency and taken steps to create a development which is environmentally sound, e.g. installing sustainable drainage solutions. It is also researching the option of providing residents with a footpath which will link the development to the local Morrisons store. This idea came from the staff working on site, looking at the plans and realising the benefit it would bring to the community.
James Lumley, Head of Acquisitions and Sales for Inner Circle Homes comments: "The Gateway presents a fantastic opportunity for residents and the local community to be part of the extensive regeneration of the area. We are the first new homes developer to be building a project of this size near the Quayside, providing purchasers with the chance to take advantage of modest prices before the further planned development takes place."