Barratt supports island equestrian talent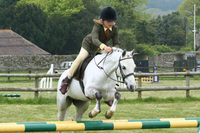 Barratt is sponsoring the equestrian pursuits of ten year old Emily Chapman, daughter of Barratt site manager Stewart Chapman, who is based at the developer's Hawthorn Meadows site in Whippingham on the Isle of Wight.
"Emily has been competing at local horse shows since she was three years old and, now that she is old enough to take part in mainland events, Barratt has kindly agreed to sponsor her ferry trips from the island," said Stewart.
"It really is a blessing for us, as the stretch of water between the Isle of Wight and the mainland is one of the most expensive to cross.
"Barratt has always shown a commitment to the communities in which it builds, and it has two developments - Hawthorn Meadows and Nautiqua - on the island now."
Emily has certainly shown equestrian talent from a young age. When she was seven years old, she was named reserve show champion at the Royal London Horse Show.
"Her latest venture is a New Forest Triathlon event with the Pony Club UK," Stewart continued. "It's a two day, inter-club event involving shooting, running and cross-country riding.
"Emily belongs to a number of clubs, including the National Pony Society and the Isle of Wight Welsh Pony and Cob Society, and she has two ponies of her own. We're hoping she will be able to take part in more mainland equestrian events in the future."
Stewart, who has worked for Barratt for eight years, is married to Judith and moved his family to Merstone on the island six years ago. His second daughter, Charlotte (8), is an accomplished ice skater.
"I began working at Hawthorn Meadows in March last year and there will be 550 homes when the site is complete," Stewart continued.
"The homes here are selling well, which is hardly surprising, as the development lies on the eastern edge of Cowes and offers the perfect location for sailing enthusiasts."
Current availability at Hawthorn Meadows includes two, three and four-bedroom homes, with prices ranging from £149,995 to £234,995. For further details, log on to Barratthomes.co.uk.