Barratt brings iPads to the island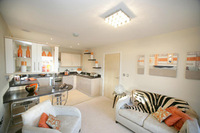 Barratt Southampton is bringing a new low cost home ownership option for first time buyers and investors at its Hawthorn Meadows development with the launch of the iPad.
These modern one and two bedroom apartments provide bright, open plan living space with designer kitchens, bathrooms, double bedrooms and all with their very own private balcony.
The stylish homes are ideal for first time buyers looking to get on the first rung of the property ladder and a perfect holiday getaway for those visiting the island for a break.
"We are very enthusiastic about bringing the first iPads in the region to Hawthorn Meadows. It's an outstanding concept which is perfect for a couple as well as singles. This is a proper home with practical dimensions and realistic pricing. We expect a huge demand," said Mark Docherty, Barratt sales director.
Hawthorn Meadows enjoys a rural setting and the locality has strong links with royalty. It is only a five-minute walk to Osborne House, Queen Victoria's summer home, and to the church she frequented, which the locals refer to affectionately as the 'Queen Vic'.
The development also nestles near the River Medina and a local mooring site and, because it lies on the eastern edge of Cowes, offers the perfect retreat for yachting enthusiasts. There is easy access to the rest of the island and to the mainland.
Prices will be released shortly.
For further details on future availability of iPads, log on to Barratthomes.co.uk.