Wedding bells for new residents at Hawthorn Meadows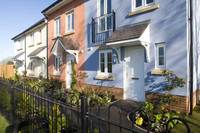 The bells were ringing at Hawthorn Meadows recently with two of the new residents of Barratt's Whippingham development walking down the aisle after leaving for the big day from their new dream home. Charlotte Firmin (20) and Daniel Hinchley (21) recently tied the knot at a local church after making their final preparations from their new home.
"We were eager to move into Hawthorn Meadows as soon as possible, so that I could leave for the church from our new home," said newlywed Charlotte, who works in a local bank.
"Luckily, we settled in quickly and could concentrate on the final plans. I left for the church with my father and one of the bridesmaids on the big day."
Charlotte and Daniel, a hospital worker, moved into a brand new, two-bedroom coach house at the development, taking advantage of one of Barratt's specially designed schemes for first-time buyers.
"Our new home is lovely and very spacious and warm. I'm impressed with the kitchen as it's a lot larger than I'm used to. We also have a lounge/dining room, two large bedrooms, a 'huge' bathroom and a garage," she added.
"We used to live in Ryde and it's really nice to live out of town now. We've discovered a lovely river walk that leads down to a nice little pub serving great food."
Still in the early stages of development, Hawthorn Meadows will provide 550 homes. Current availability includes two-bedroom homes priced from £164,995. Affordable, one-bedroom iPad apartments - ideal for first-time buyers - will be available in the near future.
Hawthorn Meadows enjoys a rural setting and the locality has strong links with royalty. It is only a five-minute walk to Osborne House, Queen Victoria's summer home.
The development also nestles near the River Medina and a local mooring site and, because it lies on the eastern edge of Cowes, offers the perfect retreat for yachting enthusiasts. There is easy access to the rest of the island and to the mainland.
For further details log on to Barratthomes.co.uk.