Barratt celebrates Chinese New in Cowes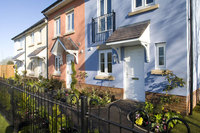 Barratt is bringing China to the Isle of Wight on February 24th as it celebrates Chinese New Year at its Hawthorn Meadows development in Cowes. A traditional Chinese lion dance will be the highlight as guests dine on Chinese food and enjoy the entertainment.
Barratt sales negotiators will be donning traditional Chinese outfits and will be on hand to speak to potential buyers about life at Hawthorn Meadows.
Barratt sales manager Tanya Gower said: "We're really looking forward to having a Chinese filled day at the development and any buyers who reserve a new home on the day will also be given a special red envelope containing an additional mystery incentive towards their new home."
Barratt's hugely popular Dream Start scheme is currently available at Hawthorn Meadows where buyers pay just 75 per cent of the asking price yet own 100 per cent of their home.
"This is a terrific offer, which can make a dramatic difference to the move-in price of a new home," continued Tanya.
"Paying only a 75 per cent mortgage makes buying very affordable. And you may not have to find a deposit either."
This would mean a two bedroom coach house with an asking price of £154,995 is available for an incredible £116,246.
Hawthorn Meadows enjoys a rural setting and the locality has strong links with royalty. It is only a five-minute walk to Osborne House, Queen Victoria's summer home, and to the church she frequented, which the locals refer to affectionately as the 'Queen Vic'.
The development also nestles near the River Medina and a local mooring site and, because it lies on the eastern edge of Cowes, offers the perfect retreat for yachting enthusiasts. There is easy access to the rest of the island and to the mainland.
For further details visit the show home complex Thursday - Monday or log on to Barratthomes.co.uk.