Incentives for homebuyers on the Isle of Wight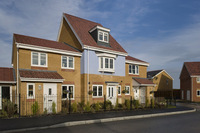 David Wilson's assistance to buyers really offers something for everyone including help with deposits, Stamp Duty or furniture for first time buyers to selling your old home on your behalf if you are part exchanging.
David Wilson Homes Southampton managing director Mark Docherty said: "Deals and assistance like this are simply not available when buying second-hand homes because the vast majority of individual vendors and their estate agents are just not in a position to offer them.
"The help we can give with deposits or Stamp Duty, with discounts, part exchange and a whole raft of other benefits – very often, these are what make the difference between people being able to buy and not being able to buy."
He added: "What's more, the economic downturn has brought new home prices in line with the second-hand market, so there is not even a 'brand new' premium any more. Buying new is even better value now."
For further information about the David Wilson Homes developments on the Isle of Wight and the assistance available to you, log on to dwh.co.uk.