Teacher buys new home with flagship initiative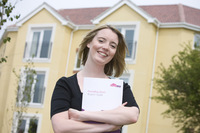 A thirty year old teacher is one of the first people in the country to move into a brand new home for just 70 per cent of the purchase price, under a major new government initiative.
First-time buyer Carolyn Pike took advantage of the HomeBuy Direct scheme to buy a show apartment at David Wilson Homes' Carisbrooke Grange development in Newport on the Isle of Wight.
Without the help of the scheme, Carolyn would have needed a mortgage for £147,000. But HomeBuy has enabled her to move in for just £107,100.
Carolyn only had to find 70 per cent of the purchase price herself. The other 30 per cent (£39,900) was funded by a joint equity loan from David Wilson and the government's Homes and Communities Agency (HCA).
"I found out that Carisbrooke Grange was part of the new HomeBuy Direct scheme through another teacher who was already living at the development," said Carolyn, who teaches ICT and Art at a local school.
"I've been living in rented accommodation and I'm really excited about buying a home of my own – I'm due to move at the beginning of the summer.
"I bought one of the show apartments, so it comes with carpets, curtains, fixtures/fittings and a freezer and washing machine," Carolyn continued. "The apartment is lovely and spacious – I have a lounge/diner, kitchen, bathroom, two bedrooms and an en-suite. There's a garage and parking outside.
"The development is nice and quiet and I can actually walk to school from there, so it's perfect. The David Wilson sales negotiators were wonderful and really helpful. Buying my first home has been a great experience, like getting a very special present, and I feel very lucky," she concluded.
David Wilson Homes is backing HomeBuy Direct with a total of 3,000 allocated homes nationwide. In addition to Carisbrooke Grange, developments in the south with Home Buy properties include Spencer Place in Basingstoke, Orchard Grove in Basingstoke, Bramley Fields in Basingstoke, College Ride in Bracknell and Blenheim Park in Chichester.
Mark Docherty, David Wilson sales director, said: "People who have been priced out of the housing market for years can see this is an outstanding opportunity to buy a new, lower 2009 priced home. The 30 per cent equity loan from ourselves and the government means that, in many cases, they don't even need to have a deposit."
David Edwards, HCA regional director for the South East, said: "In the current climate it's important that we help a range of people to find the best housing option to suit them, and simultaneously help stimulate the building of new homes. HomeBuy Direct, with our £400 million investment, is just one way in which we're doing this and it is proving extremely popular."
The scheme is open to first-time buyers, key workers and others who are currently renting. People who have previously owned a home but are now unable to do so – perhaps where relationships have broken down – can also apply.
Households eligible will be earning less than £60,000 and would not normally be able to afford to buy a suitable property on the open market. There is no interest to pay on the equity stake for the first five years, although a small fee will be charged from year six onwards.
Buyers can redeem the loan in instalments, purchasing up to 100 per cent of the equity after their initial purchase by buying additional equity at the market rate. Alternatively, if they sell their home, the equity loan is repaid by way of a proportionate share of the sale proceeds.
For further information about David Wilson Homes' HomeBuy Direct scheme Southampton log on to dwh.co.uk/homebuydirect.