Fun for all with Barratt on the Isle of Wight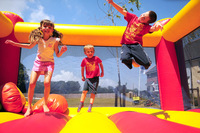 Barratt took advantage of the fabulous sunshine recently with a family fun day at its Hawthorn Meadows development in Whippingham on the Isle of Wight. "It was just the perfect day with a great barbecue and lots of entertainment for the children," reports Mark Docherty, Barratt sales director.
"Visitors will enjoyed tours of the fabulous family homes on offer while their children enjoy the entertainment," he continued.
"In particular, our show homes – the three-bedroom Maidstone and the two-bedroom Richmond - will give them an insight into the high quality they can expect at this development."
When complete, Hawthorn Meadows will offer 550 homes, ranging from one-bedroom apartments to four-bedroom houses. The development has been designed to attract a wide spectrum of buyers, from working couples and families to people seeking holiday homes in a fabulous setting.
Current availability includes two-bedroom coach houses priced at £155,995, two-bedroom houses priced from £159,995 and three-bedroom houses priced from £182,995.
"We have special incentives for first-time buyers and we can offer part exchange to people moving to a larger property," Mark continued. "With part exchange, Barratt is a guaranteed cash buyer, so people don't have to worry about selling their existing home or being in a chain that breaks."
Hawthorn Meadows enjoys a rural setting and the village of Whippingham has strong links with royalty. It is only a five-minute walk to Osborne House, Queen Victoria's summer home.
The development also nestles near the River Medina and a local mooring site and, because it lies on the eastern edge of Cowes, offers the perfect retreat for yachting enthusiasts. There is easy access to the rest of the island and to the mainland.
For further details visit the show home complex or log on to Barratthomes.co.uk.