Island home buyers choose new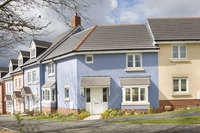 Why do so many people prefer to buy new rather than second-hand homes? Five main reasons are regularly identified in buyer surveys, most highlighting the central fact that new housebuilders generally offer a range of benefits that the second-hand market cannot match.
A good current example is Barratt's Hawthorn Meadows development in Whippingham, where buyers can take advantage of a package of help ranging from assistance with Stamp Duty and deposits to part-exchange.
"Deals and assistance like this are simply not available when buying second-hand homes because the vast majority of individual vendors and their estate agents are just not in a position to offer them," said Mark Docherty, sales director at Barratt.
"The help we can give with deposits or Stamp Duty, with discounts, part-exchange and a whole raft of other benefits – very often, these are what make the difference between people being able to buy and not being able to buy."
He added: "Anyone buying a new home today will be paying low 2009 prices rather than high 2007 prices. It means that you could save literally thousands of pounds on the price you'd have paid just two years ago."
So what exactly do buyers prefer about buying new? The most common reasons given by Barratt customers are:
No work to be done and no money to spend on your brand new home.
Our homes come with the National House Building Council's ten year Buildmark warranty.
Energy efficiency – new homes are green homes, built to the latest environmental standards and cheaper to run.
Customer service – friendly staff who help every step of the way (we are the only major housebuilder to have been awarded four stars in the Home Builders Federation annual customer satisfaction survey).
A wide range of no-strings packages to help First Time Buyers and Move Up Buyers take their next step on the property ladder.
Homes currently available from Barratt on the Isle of Wight include Hawthorn Meadows in Whippingham and Nautiqua in Cowes.
For further information on current availability at Barratt's Isle of Wight developments visit barratthomes.co.uk.