Luxury eco-home for sale next to Liz Hurley's farm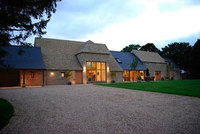 Polar explorer and environmentalist Paul Lavelle has created the UK's most luxurious, spacious eco-home with the carbon footprint of a small two-bed flat.
Barnsley Hill Farm, in the Cotswolds, is situated in five private acres next to celebrity Liz Hurley's farm in the much sought-after Barnsley area not far from Prince Charles' Highgrove residence.
Paul's aim was to build a carbon-neutral property within the traditional timber-framework of a 17th Century barn. There are six gorgeous bedrooms, (four en-suite), which all have their own outside entrance, a large indoor swimming pool with eight-seat hot tub, spacious steam room and sauna.
The open-plan living area includes a mezzanine level, bespoke 25-seat cinema, huge designer kitchen and dining room along with an interior layout planned to perfection by Paul's partner, Sara Anton, who is a psychology teacher in London.
Amazingly, this luxury living uses only 10 per cent of the energy required for a normal home and has the humidity level of the Sahara desert (so no dust mites, smells or condensation).
It's all thanks to trailblazing technology which includes a solar park linked to state-of-the-art underground heat storage combined with complete air tightness in the home and an advanced air exchange system which delivers cleaned, screened air every two hours. A rainwater harvesting system and sewage plant ensures maximum energy saving year round.
For more information, visit stonebee.co.uk