£50 million development unveiled for former hospital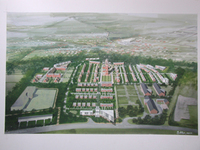 A multi-million pound development has been unveiled to regenerate the site of the former Ruchill Hospital in Glasgow which has lain vacant for over a decade.
Leading housebuilders, Gladedale (Central Scotland) Ltd and Bellway, are to acquire the 40 acre site from Scottish Enterprise Glasgow and plan to build more than 500 homes in a £50 million development.
The plans involve the restoration and refurbishment of key listed buildings on the site of the former Victorian hospital including the landmark grade A listed water tower which dominates the skyline to the north of the city. It will be one of the most significant new housing projects in Glasgow over the next five years with homes for first time buyers an integral part of the development.
Ruchill Hospital is one of the largest brownfield development sites to become available in Scotland in recent years.
A planning application for the project is to be submitted in early 2008 and it is hoped that work will begin on-site in 2009.
The Ruchill development will be the third hospital site redevelopment project undertaken by Gladedale in the west of Scotland this year.
The UK's largest private housebuilder – which has a major presence in Scotland – is also embarking on two other landmark developments - the former Law Hospital near Carluke and Broomhill Hospital in Kirkintilloch.
Law Hospital – a £100 million project involving Gladedale and Taylor Wimpey – is set to become a new community with 500 homes.
The hospital – which was at the heart of NHS services in Lanarkshire since it was built in 1939 - has lain empty since 2001 when services were transferred to the new Wishaw General.
The five year redevelopment plan will see the former military hospital being replaced by two, three, four and five bedroom family homes as well as some local shopping facilities.
The leading housebuilders are also committed to contributing to a Park and Ride facility at Carluke Station as well as carrying out much-needed road improvements. Detailed planning consent has been granted and it is anticipated that work will start on-site in early 2008.
At Broomhill Hospital, the redevelopment of the site will result in the refurbishment of the listed building to create 13 executive apartments. The £50 million development will also bring much-needed new family housing to East Dunbartonshire with plans for 186 three, four and five bedroom homes.
A planning application is to be submitted shortly and it is hoped that work will start on site in early 2009.
Crawford Copstick, managing director of Gladedale (Central Scotland) Ltd, said: "Ruchill Hospital is an outstanding regeneration opportunity and our development will play a key role in the continuing revitalisation of this part of North Glasgow.
"The redevelopment of former hospital sites does present some challenges but as well as providing much-needed housing we will be able to retain and enhance some of the original architecture and features.
"We are committed to maintaining the existing character of these historical developments - at Ruchill Hospital we propose to find a new use for the historic A-listed Tower and plan to work with the local community to achieve this.
"We are also refurbishing part of the existing Broomhill Hospital which dates back to 1876 and we hope to preserve as many of the original features as possible.
"These three former hospital sites will form a major element of Gladedale's growth plans in central Scotland for 2008 and we are looking forward to playing our part in revitalising these local communities."
Ruchill Hospital, which closed in 1999, was designed by the City Engineer A. B. McDonald and was opened in 1900 as an infectious disease hospital by Princess Christian, a daughter of Queen Victoria.
The historic site in the north-west of the city stands on almost 40 acres of land includes 13 listed and one non-listed building. The famous landmark red-brick water tower, which dominates the area, is a grade A listed structure.