LG launches Blu-ray player with advanced DLNA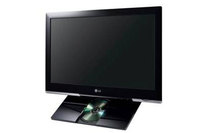 LG Electronics has launched the BD390, its first Blu-ray player with advanced DLNA (Digital Living Network Alliance) and integrated Wi-Fi. Bursting with features, including the latest in Blu-ray technology, Video on Demand powered by YouTube and BD Live, the BD390 is the ultimate home entertainment package. The BD390 will be making its debut at this year's IFA 2009 show in Berlin 4 – 9 September.
With its advanced DLNA and Wi-Fi features, the BD390 leads the next generation of Blu-ray Hub devices and is capable of accessing your digital content and seamlessly delivering it to the living room. With fully integrated Wi-Fi technology, there is no need for a hardwired connection and thanks to Digital Living Network Alliance (DLNA), the BD390 can access a range of DLNA devices across a home network, enabling you to share holiday snaps, home movies and your music catalogue from your remote control.
DLNA functionality is not the only weapon in the BD390's arsenal; it is also loaded with the latest interactive technology. You are able to stream YouTube videos from the internet directly to your TV, providing access to more than 2.5 billion entertaining online videos. And for the true movie buff, the player also features BD Live, giving access to additional free 'bonus' content that can be downloaded from filmmakers' websites to enhance the movie experience. The addition of 1GB of built-in memory, allows easy and smooth running of this personalised content through BD Live, when interacting with your favourite movies.
LG strives to share its passion for seamless connectivity, high quality sound and picture, and the BD390 is no exception. It delivers superior sound to match the 1080p full HD superior picture. Courtesy of 7.1 channel analogue output, Dolby True HD and DTS-HD, movies not only look great, they sound amazing too. With full 1080p DVD up-scaling, your existing DVD collection has never looked better too! In addition, the BD390 can play a host of audio, disc and video formats, including MKV (for high definition videos, downloadable from the Internet) DivX, DivX HD, MPEG4, MP3 and WMA.
Daniel Aziz, marketing manager, LG Electronics digital media says, 'We believe that home entertainment should bring friends and family together and with the BD390 we think we've achieved just that. Access to all your digital content from the comfort of your living room, combined with the fantastic audio-visual high definition experience and the various interactive features, means there is something for everybody."
The BD390 will be available in the UK from September 2009.