Austrian experiences positive growth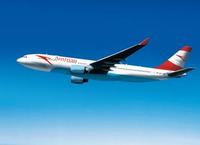 Austrian continues to see the benefits of Focus East network strategy as passenger traffic expands. Commenting on the latest traffic results, Austrian Chief Executive Officer Alfred Ötsch said the following "This strong traffic result is based first and foremost on continuing strong growth in the short and medium-haul segment, above all in the Focus East regions."
Even in the traditionally weak first quarter Austrian has seen an overall traffic increase of 2% with lead factors up by 1.9% despite the effects of planned long-haul capacity reduction.
The core Focus East markets performed especially well with strong growth of 7% in the short and medium-haul segments.
This positive trend is due to continue to gain momentum in the summer schedule with new routes in Central & Eastern Europe and the Middle East and increased frequencies in core markets.