Austrian gives wings to the Vienna Boys Choir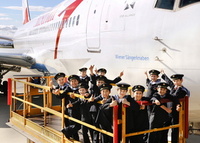 Austrian Airlines have a long tradition of naming aircraft for Austria's rich musical heritage. Mozart and the Salzburg Festival have previously been honoured and now it is the turn of the Vienna Boys Choir.
Chief Executive Officer Alfred Ötsch said the following on the occasion of the naming of the aircraft: "As an airline, we connect countries and people and represent the good name of Austria worldwide. We are proud of this. The Vienna Boys Choir is a very Austrian institution, and known and loved around the world. Culture and music are something deeply rooted in Austria, and we are looking forward all the more to carrying Austria's good reputation around the world once again with this naming ceremony."
An early member of the Vienna Boys Choir was Josef Hayden whose life is celebrated throughout Austria during 2009, the bicentennial of his death, making this the perfect time to visit Austria with Austrian Airlines. Adding to the attraction the city of Linz, the capital of Upper Austria, will be the European Capital of Culture in 2009.