Emirates voted readers' favorite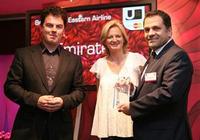 Emirates has been voted 'Best Middle East Airline' by readers of the Daily Telegraph's luxury travel magazine Ultratravel. The airline was announced as the winner of the prestigious Ultratravel 100 award during a ceremony at the InterContinental London Park Lane, attended by key representatives from the travel industry.
Emirates' Senior Vice President of Media Relations, Sponsorships and Events, Boutros Boutros, who collected the award, said: "We are delighted to have been voted Best Middle East Airline by the readers of this luxury travel magazine. The award is particularly important to us because it is voted for by travellers, demonstrating that even the most discerning customers recognise the quality of the Emirates service, which we are continually striving to enhance."
More than 10,000 Ultratravel readers completed an extensive survey into the very best in modern luxury travel. Other categories included best hotels, spas and destinations across the world.
Emirates has won more than 300 awards since it was founded in 1985. Others claimed by the airline this year include 'Best Scheduled Airline to the Middle East/Far East' at the Travel Weekly Globe Awards and 'Best Airline Based in the Middle East/Indian Sub-Continent' presented by the Official Airline Guide.
Emirates currently operates 91 services a week from Dubai to five airports across the UK. The airline will be increasing choice still further this September with the launch of its Newcastle route, adding to a fast growing international route network.