Emirates launches new amenity kits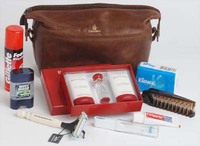 New, luxury amenity kits, containing exclusive products by Bvlgari, are now offered to passengers in the First and Business Class cabins on Emirates' long-haul flights.
In developing the new kit, Emirates wanted to link with a popular major brand, give the new product a more luxurious feel and source a supplier through which they could be refreshed on a regular basis.
As part of its agreement with Bvlgari, Emirates has exclusive use of Thé Rouge (Red Tea) products. The men's First and Business Class amenity kit contain Thé Rouge after shave emulsion, eau parfumée and body lotion. Those for ladies contain Bvlgari nourishing face emulsion, nourishing hand cream and eau parfumée Thé Rouge.
The bags themselves complete the luxury look and feel. The men's First Class bag is made of Italian leather while the Business Class bag is made of canvas with smart leather-look trim. Ladies in First Class have a brown suede-style and in Business Class a light beige fabric bag. Inside pockets hold the products while a waterproof base protects three of the styles.
Terry Daly, Divisional Senior Vice President Service Delivery, said: "We wanted to offer amenity kits that look and feel special and I am confident that we have. As well as Bvlgari cosmetic products, the amenity kits contain a range of other useful items. All of them are well known brands which demonstrate Emirates' commitment to quality as well as providing reassurance to our customers. For instance, toothbrushes are Oral B, toothpaste is Colgate, tissues are Kleenex and, in the men's amenity kit, the razor is from Taylor's of Old Bond Street featuring a Schick replaceable three-blade razor."
The amenity kits are offered to passengers on night flights and flights of seven hours and more. They contain products sourced in the USA, Europe and the Far East.
This year, a number of inflight products have been introduced in First Class on Emirates flights including new sleep suits, slipperettes, eyeshades, white duvets and blankets.